(33621) War Bonds Rally, Olympia Stadium, Detroit,
Posted October 27th, 2015 by eclemens
The audience at Olympia Stadium eagerly awaits the arrival of the Hollywood Victory Caravan.
The Victory Caravan was three-week long tour of the United States by actors and comedians to raise money for war bonds. Artists on the tour included: Laurel and Hardy, James Cagney, Humphrey Bogart, Olga San Juan, Barbara Stanwyck, Bing Crosby, Bert Lahr, Pat O'Brien, Groucho Marx, Claudette Colbert, Cary Grant, Bob Hope, Merle Oberon and Desi Arnaz.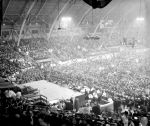 Photographer:
Detroit News Staff