(28562) UFW, Boycotts, Montreal, Leaflets, 1960s
Posted May 22nd, 2012 by eclemens
A multilingual leaflet from the Montreal Lettuce Boycott of the late 1960s- early 1970s.
En verso, in English:
HELP FARM WORKERS
FARMWORKERS FROM THE SALINAS VALLEY OF CALIFORNIA ARE IN MONTREAL TO ASK FOR YOUR SUPPORT
Since August farmworkers from the Salinas Valley of California have been on strike against the growers who deny them the right to organize a union and to negotiate their own contracts.
The farmworkers picketed for several weeks despite harassment, beatings and illegal arrests.
Recently local courts refused them even the constitutional right to peaceful picketing.
No longer able to picket the fields, the farmworkers are once again turning to you, the consumer, for support. You can help by:
Buying only lettuce with the FARMWORKERS UNION LABEL - lettuce from InterHarvest and Freshpict, the two companies who have already signed contracts with the union.
Buy only Lettuce with the farmworkers
United Farm Workers
4540 rue Garnier
Montreal 177, P.Q.
526-7774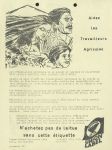 Photographer:
Original Document