(DN_79592) Ethnic Communities, Welsh, Costumes, Singers, 1963
Posted March 22nd, 2011 by eclemens
Detroit hostesses entertain guests with song at the Ford Auditorium during the 12th Annual Gymanfa Ganu (Assembly Sing).
Left to right: Marilynn Baldwin, Shirley Williams, Betsy Baldwin, Eira Symons, Mrs. Alice Spencer.
Note: Shirley Williams wears an apron with an embroidered dragon on it. Known as "Y Ddraig Goch" (The Red Dragon), the symbol has been part of the Welsh flag since at least 800 AD.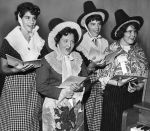 Photographer:
Detroit News Staff