History of Grace Hospital
Posted May 13th, 2013 by Public Relation...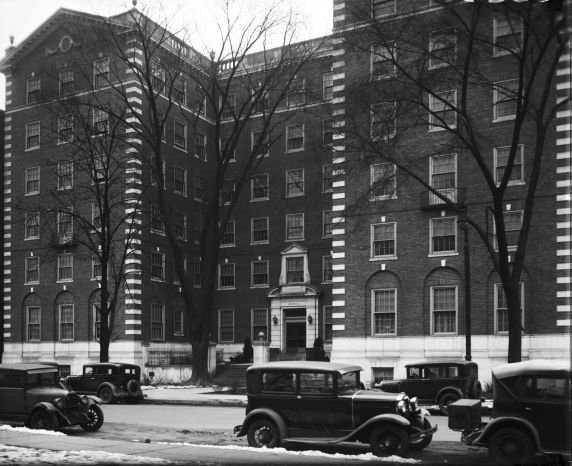 In the Winter 2013 semester, the Reuther Library worked with students in the Graduate Certificate in Archival Administration program at the Wayne State School of Library and Information Science to produce a series of student-written, guest blog posts.
Natasha Rogers is a student at Wayne State University working towards her Masters in Library and Information Science, specializing in Digital Content Management, as well as her Archival Administration Certificate.
Grace Hospital was named for Grace McMillan Jarvis, the daughter of one of the founders of the hospital, James McMillan. Grace Hospital opened its doors to patients in 1888, and was located on Willis and John R in Detroit. Grace Hospital started with seventy-five beds and was able to comfortably treat around one hundred patients, though it treated as many as 156 patients under very crowded conditions.
Grace Hospital rapidly expanded, along with the city of Detroit, over the next several decades. In 1913, the Merriam Memorial Branch was constructed on West Grand Boulevard, and added an extra fifty beds to the hospital. In 1916, an X-Ray department was added, followed by a radiotherapy department in 1922. Already by the 1920s, Grace Hospital enjoyed a "Class A" rating by the American College of Surgeons. In 1920, Grace Hospital charged $2.50 per night for a bed in their hospital ward and $3.00 for a bed in a 2-bed room, nearly $30 and $35 in 2013 dollars respectively. Don't we wish hospital prices were still as affordable?
Due to the onset of World War I, 163 members of Grace Hospital personnel left their positions to serve in the U.S. military between 1917 and 1919. Those who left included physicians, nurses and other hospital employees, many of them serving overseas.
Grace Hospital was also home to the Women's Auxiliary, which was formed in 1939 by retired nurses, and later opened to other women, in order to promote Grace Hospital and conduct charitable work. Some examples of the work completed by the Women's Auxiliary were sewing projects during World War II and the management of the Grace Hospital Diabetic Camp for Children. The Auxiliary also raised funds and contributed to nursing scholarships and funding for continuous nursing education. Men were admitted into the Auxiliary in 1978.
In order to meet demand, a second branch, named the Northwest Branch, was opened in 1952. Other additions to the hospital were built in 1953 as well as 1964 and, thus, made Grace Hospital the second largest non-profit hospital in Michigan.
In 1973, Grace and Harper Hospitals merged and consolidated to eventually create the Detroit Medical Center in 1985. Harper Hospital was founded in 1863 and immediately began treating Civil War soldiers. Harper Hospital is also Michigan's oldest teaching hospital when it began serving as a teaching hospital to Wayne State University School of Medicine students in 1868.
Sinai Hospital was created as a place for Jewish doctors to treat patients without the blatant discrimination that was rampant in the early 1900s. In 1999, Sinai Hospital and Grace Hospital merged to form Sinai-Grace Hospital, which made a home for itself in the former Mount Carmel Hospital Building on West Outer Drive and Schaefer Highway. Sinai-Grace Hospital (DMC) still stands on West Outer Drive, while the original Grace Hospital building was demolished in 1979.
One of the most famous people to be treated in Grace Hospital was the noted magician, Harry Houdini, who died in room 401 of peritonitis on October 31, 1926. He last performed at the Garrick Theatre in Detroit.
To learn more about the history of Grace Hospital, researchers can view the Grace Hospital Records, the Grace Hospital Women's Auxiliary Records, the JCA Sinai Hospital Records, and the Harper Hospital Records. Researchers can also view images of Grace Hospital in the Virtual Motor City.
References:
Smith, Richard R., M.D., Grand Rapids, and Michigan. "1809-1930: History of Hospitals in Michigan | ElderWeb." ElderWeb. N.p., n.d. Web. 21 Mar. 2013.