Exhibit Announcement: Dance Pioneers
Posted October 11th, 2013 by cwesterman
On Friday, October 4, the Reuther Library hosted a reception for the opening of Dance Pioneers: Michigan's 20th Century Movers, a new exhibit on display in the Woodcock Gallery. The opening reception was introduced by Harriet Berg, founder of the Michigan Dance Archives, and included remarks from Leslee O'Day Benyo, Reuther Library Director Beth Myers, and Reuther Library Field Archivist Louis Jones.
Dance Pioneers: Michigan's 20th Century Movers showcases trailblazers in Ballroom, Show Biz, Ballet, and Modern dance styles who have made a significant impact on the American dance scene, and who hailed from or made their careers in Detroit and Michigan. The exhibit is drawn from The Harriet Berg Dance Archives, and focuses on dancers, arts professionals, and prominent figures who promoted dance in Michigan and nationwide.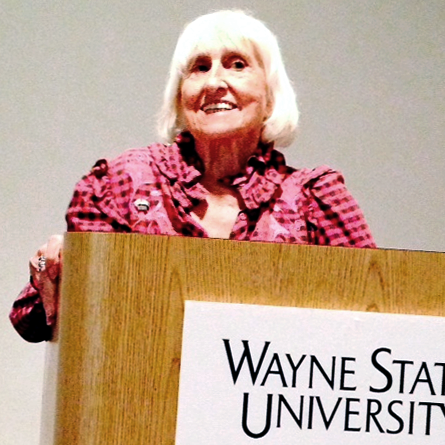 In 1994, Harriet Berg and her husband Irving, both Wayne State alumni, established the Michigan Dance Archives at the Reuther Library. The collection includes Berg's own papers, reference materials, photographs, and recordings that document the intangible art of dance. Berg's collection also documents her time spent teaching at the Wayne State University Dance Department and career as the artistic director of the Renaissance Dance Company and Madame Cadillac Theatre.
This exhibit is on display at the Walter P. Reuther Library of Labor and Urban Affairs until May 2014, and it can be viewed from 8:30 until 5:00, Monday through Friday. The Harriet Berg Dance Archives are open to researchers in the Reuther Library Reading Room.