Archivist Louis Jones Receives Award
Posted November 4th, 2013 by teller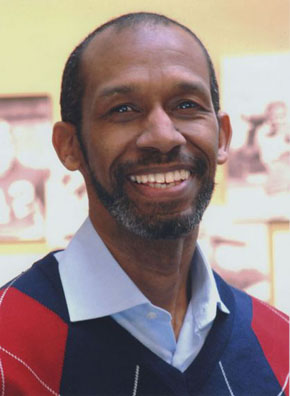 On October 17 Reuther Library field archivist Dr. Louis Jones, CA, was recognized at the 16th Annual Wayne County Council for Arts, History and Humanities Recognition Awards. Jones received the WCCAHH Award for his excellent work in collecting the records of significant people and organizations within Wayne County, Michigan.
In his role as field archivist, Jones identifies persons and organizations whose records have historical value and fit within the mission of the Walter P. Reuther Library to document metropolitan Detroit, organized labor, and Wayne State University. Jones' work extends beyond identifying records of interest to building important relationship with the donors of those records. During his remarks at the awards ceremony, Jones explained: "The importance of the history these records document aside, it requires compassion as I talk to the donors who may be grieving over the death of parents and spouses whose records with which they are entrusting us. There are others who need convincing that our repository is the most appropriate one to donate their records. And still others who only want to ensure that history might be more fully documented through the records they have to donate. The work is truly rewarding, knowing a more comprehensive view of history is available because of the work archivists pursue." Read more about Jones and his work as field archivist on the Reuther Library blog.
Congratulations Louis!