In Memoriam: Pete Seeger, 1919-2014
Posted January 28th, 2014 by cwesterman
in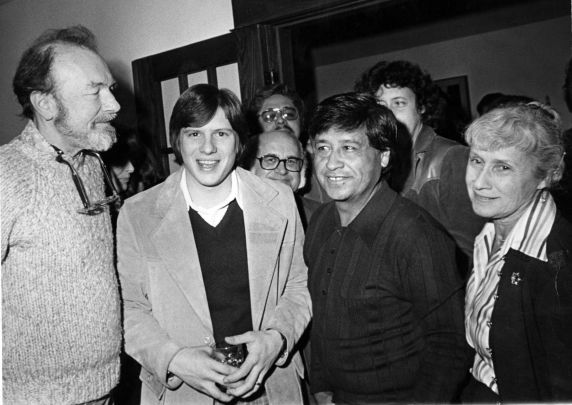 The folksinger and activist Pete Seeger died Monday, January 27, 2014 at the age of 94, bringing to an end a career that lasted from the Great Depression to the twenty-first century. His lifelong engagement with culture and politics, and his deep commitment to the labor movement, brought him into continual contact with the rank and file of unionized American workers. In 1939, when Seeger was 20 years old, he worked in the Library of Congress Archive of American Folk Song as an assistant to the musicologist Alan Lomax, and it seems fitting that this onetime archivist is so well represented in the archives and manuscripts of the Reuther Library of Labor and Urban Affairs. No fewer than twelve collections in the Reuther Library collections include correspondence, recordings, or other first-hand evidence of his career.
Pete Seeger's involvement with the Marionette Theater of San Francisco in 1944 and 1945 is recorded in the Blanding Sloan Papers. The Reuther Library holds the records of The People's Song Library, including the files of People's Songs, Inc., the music publishing company for which Seeger was the national director from 1945 until 1949. More of the history of People's Songs can be found in the papers of Irwin Silber, who co-founded Sing Out! magazine with Seeger. The folklorist Dick Reuss interviewed Seeger and Silber in 1968, and recordings and transcripts of their interviews are preserved in the Folklore Archive.
Several Reuther collections include correspondence with Pete Seeger, including the Sidney Rosen Papers (1954 and 1972 letters from Seeger), the Harold Norris Papers (1955 correspondence concerning a legal case defending Seeger's "right to perform in a public building"), the Harvey O'Connor Papers (1960 correspondence with Pete Seeger and his wife, the filmmaker Toshi Aline Ohta Seeger), the James H. Williams Papers (letters about Seeger's 1962-1963 work with the Student Peace Union), the United Farmworkers Administrative Department Records (concerning a 1969 benefit concert in Miami), the Miners for Democracy Records (another benefit concert, this one in 1972), and the Industrial Workers of the World Records (general correspondence from the 1960s and 1970s). The latest appearance of Pete Seeger in our collections appears in the 2005 oral history interview of Cindy Cole, office manager of SEIU Local 925, in which she mentions Seeger's participation with the Seattle Labor Chorus in the late 1990s.
The Reuther Library is open to all researchers. Appointments are required for access to audiovisual materials, and encouraged but not required for visitors to our Reading Room. Reference hours are 10:00 AM - 4:00 PM, Monday through Friday, and reference questions can be directed to reutherreference@wayne.edu .
Casey Westerman is the Wayne State University Archivist. Pictured above: Pete Seeger, Cesar Chavez, and others.