In Remembrance: Carrolyn Davis
Posted April 24th, 2014 by eclemens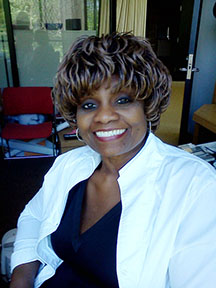 The staff of the Reuther Library mourns the loss of our beloved friend and colleague, Carrolyn Davis. Carrolyn died unexpectedly on April 8, 2014. Her passing leaves an immense void in the hearts of her colleagues at Wayne State, the archival community, and her friends throughout the library world.
She attended Detroit Public Schools and graduated from Northwestern High School. She received her Bachelors and Masters Degrees from Wayne State University.
Carrolyn joined the Reuther Library in 1979 as our Librarian. In this role she helped researchers to find information among the collections of books, contracts and periodicals within the Library collection. Through the years she served in a number of different positions, including Associate Director, and most recently, as our Access Archivist. In the latter capacity, she fostered relationships with many of our donors. Notably, she served as our specialist for and liaison to the Coalition of Black Trade Unionists (CBTU) and recently conducted a series of oral histories for the organization. She was a subject specialist in the role of women in the labor movement, the history of the city of Detroit, and she wrote and presented extensively on issues of African American history. She was considered by her peers to be a recognized subject authority in the field of industrial and labor relations. Her vast knowledge of our collections has been appreciated by many researchers throughout her 35 years with the Reuther and was publicly acknowledged numerous times by authors, historians and filmmakers. Carrolyn held the highest rank possible, that of an Archivist IV, and obtained tenure, a rare accomplishment at the Reuther, for her work on a Martin Luther King bibliography.
Carrolyn enjoyed a robust professional life throughout her career. She was an active member of the Community of Industrial Relations Librarians, and served on their board throughout the 1980s to the 1990s. She was a long-time member of the Special Library Association (SLA) and served as co-chair of SLA's Labor Issues Caucus. She also served as president of the Association of African American Librarians (1990-1993). Carrolyn was a lifelong Detroiter, and a tireless supporter of the city she loved. Writer and scholar Paul Lee recalls, "Her maternal lovingness, which enfolded family, friends, coworkers, patrons and nearly anyone in need, infused her care-full archival chronicling of the history and culture of Detroit, and particularly its rich and unique, but often neglected, 'black' heritage." She devoted herself to the community through her work with the Detroit Women's forum, as the archivist for the Northwestern High School Alumni Association and as a board member for the New Hope Community Association. Her record of service for these and many other organizations earned her the Outstanding Service to the Community Award from New Detroit, Inc. (1984, 1990) and the National Council of Negro Women (1989).
Outside of her work for Wayne State, Carrolyn's legacy will live through the many newly-minted archivists and student assistants she took under her wing during her tenure at the Reuther. Our Carrolyn had the largest of hearts, and no one felt that more than the dozens of students whom she mentored and encouraged through the years, affecting their personal and professional lives in ways that are difficult to fully understand. It is in this spirit that she requested that the Carrolyn Davis Memorial Scholarship Fund be created upon her death so that she might continue to encourage and support the educational aspirations of Wayne State's students in the years to come.
When she wasn't devoting her time to the community, her students, friends or family, Carrolyn loved to travel. She visited every continent, with the exception of Antarctica, and recently had fulfilled a life-long dream of touring Australia. Whether it was tales of African princes or shenanigans in Geneva, the stories she brought back from her adventures were the stuff of legend. It is a testament to her sparkling sense of humor and her creative skill as a storyteller that even the mention of one of her tales, years after told, is likely to send one into hysterics. She was a loving and generous person, larger than life, with a smile as contagious as they come. In the past weeks of reflection upon her passing, it is that smile that we miss most. We would give anything to see it just one more time.