In Memoriam: Casey Kasem, 1932-2014
Posted June 18th, 2014 by cwesterman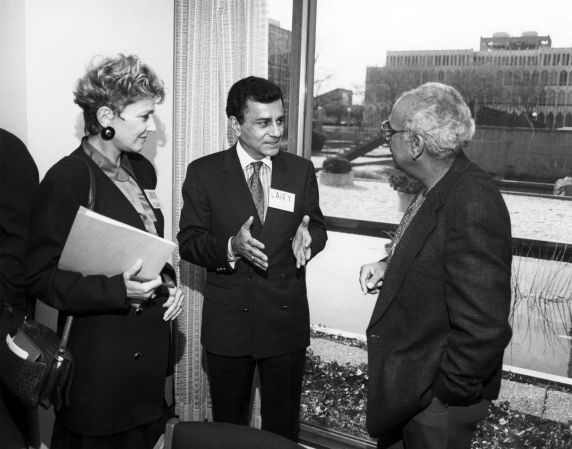 Disc jockey, voice actor, and Wayne State University alumnus Casey Kasem passed away on June 15, 2014.
Born Kemal Amin Kasem to Lebanese immigrant parents, Kasem attended Northwestern High School in Detroit, and served in the Korean War before returning to enroll at Wayne State University. He graduated from Wayne State in 1958, and over the years he returned to Detroit to support his school.
Kemal Amin Kasem's name appears in the program of the January 28, 1958 Commencement; he earned a Bachelor of Science in Education. In interviews, he often remarked that he'd adopted the name "Casey" when playing baseball, and found it useful on the radio as well. Although he set out to be an actor, he found his greatest success on the radio with his Top 40 format, in which he counted down the top-selling singles once a week, shared trivia about bands and musicians, and made long-distance dedications for a nationwide audience.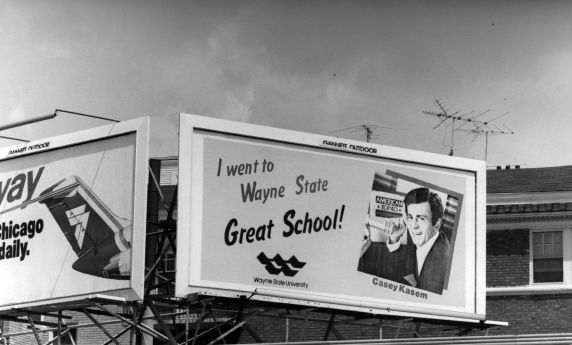 In 1986 Casey Kasem became the voice and face of a Wayne State University advertising campaign. He recorded radio spots and appeared on billboards under the slogan "Wayne State - Great School!"
Although Kasem avoided politics in his professional life, a long-running personal cause for him was correcting media misconceptions of Americans of Arab descent. In the 1980s, Kasem became involved with the nonprofit Foundation for Mideast Communication, which sought to bring together Jewish and Arab Americans in the pursuit of world peace. He spoke for the Foundation at Wayne State University's MacGregor Memorial Conference Center. One photograph from that event shows the College of Education in the background, visible behind the McGregor Memorial Conference Center's reflecting pool and sculpture garden.
Above: Casey Kasem on the campus of Wayne State University. Listen to two Casey Kasem radio ads for Wayne State. Casey Westerman is the University Archivist of Wayne State University.