Farewell and Good Luck to Mike Smith, UAW/JCA Archivist
Posted August 18th, 2014 by kschmeling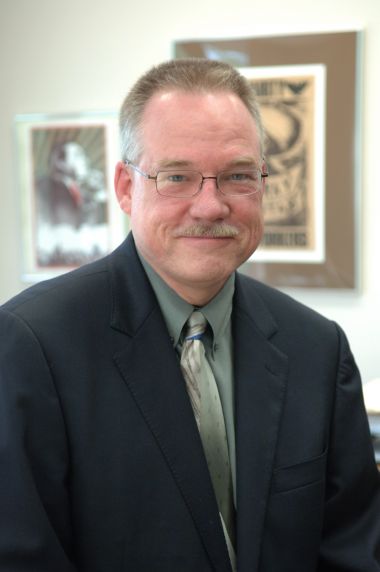 The Walter P. Reuther Library announces the retirement of Mike Smith, Archivist. Mike's duties at the time of his retirement focused on the archives of the United Automobile Workers and the Jewish Community Archives. However, he wore many hats during his tenure at the Reuther.
Mike was first hired in 1983 as a part-time student assistant assigned to process the papers of Ernest Goodman, the celebrated labor lawyer. At that time he was working on his Master's degree in History (driving a truck during the day), and was enrolled in the Archival Administration program studying under the direction of Dr. Philip Mason. Upon earning his M.A., he accepted a position as archivist for the historical papers of the Merrill-Palmer Institute. Mike's interest in the study of history took him to the University of Michigan's Ph.D. program in 1989, when he resigned his position as archivist and ended his first tour of duty at the Reuther. Mike achieved Ph.D. candidacy at the University of Michigan, and then honed his skills by taking a position at the Detroit Historical Museum as chief curator for The Motor City Exhibition from 1994 to 1996.
Mike's attention was drawn back to the Reuther when he was hired as reference archivist in 1996. He remained in that position until Dean Alma Young at Wayne State's former College of Urban Labor and Metropolitan Affairs appointed him interim director of the Reuther Library in 2002. By 2003, he was the Reuther's permanent director and served in this capacity until 2011.
Mike's work history at the Reuther is impressive. His accomplishments in our Reference Room produced new and more efficient procedures to provide better access to our collections. Along the way, he achieved tenure at the University, and developed a thick resume with numerous publications and presentations.
But what is most impressive is what Mike accomplished as director to grow the Reuther's program in order to better serve our donors and patrons. He developed a strong and positive relationship with many of the Reuther's major donors: individuals such as former UAW President and Professor of Labor Studies Doug Fraser, UAW President Ron Gettlefinger, United Farm Workers President Arturo Rodriguez, Congressman David Bonior, Federal Judge Avern Cohn, and organizations and unions including the Society of Women Engineers, AFSCME and many, many others. Along with his duties as director, Mike spent five years teaching and managing the Archival Administration Certificate Program. He also established and funded a Reuther Library endowment that continues to provide our institution with much-needed funding for a variety of projects. Just before his transition to UAW/JCA archivist, Mike secured a donor-funded endowment for the Sam Fishman Travel Grant program to aid researchers interested in our collections.
Last but not least in terms of important milestones for the Reuther are two major projects that brought the Library into the 21st Century under Mike's direction: The legacy finding aid digitization project which transformed all of the Library's collection guides into online resources, and an upgrade of the Reuther's digital infrastructure—both very crucial projects to improve access to our patrons and donors.
When I asked Mike about his most memorable accomplishments or events during his work life, he replied: "It has been a most rewarding career with lots of memories. A few of them immediately come to mind. First and foremost, meeting and working with all my friends at the Reuther, at Wayne State and within the archival profession. There are too many to name. I am also honored to have been nominated and interviewed for Archivist of the United States. I was not appointed, but still, it was an honor to be nominated. Hosting former Polish President Lech Walesa at the Reuther and Wayne State in October 2010 to open the Reuther's Solidarnosc exhibit – which was an exceptional exhibit created by staff members Elizabeth Clemens, Dan Golodner and Kristen Chinery – was a thrill. I never thought in my life that I would be able to spend a few days with someone of the stature of President Walesa. Finally, I will say that being invited by Walesa to be part of his official delegation to the 2012 Nobel Laureate Summit, where I was privileged to attend a private meeting with the Dalai Lama, was also a thrill. All of the memories I have mentioned are the results of being associated with such a fine, world-class archives that is the Reuther Library. I hope that I did a bit of good for the Reuther."
Mike will be retiring from the Reuther Library but will continue to be engaged with the labor movement, public history, and Detroit's Jewish community as a consultant. We wish him well.
Kathleen Schmeling is the UFW Archivist at the Walter P. Reuther Library of Labor and Urban Affairs.