(32404) Joe Hill, Memorial Poster, 1979
Posted November 17th, 2014 by eclemens
A memorial poster for Joe Hill, created by celebrated I.W.W. artist Carlos Cortez. Text on the poster, in English and Swedish, reads:
"Gävle, Sverige, 7 Oktober 1875 - Salt Lake City, USA, 19 November 1915. Union organizer, labor agitator, musician, composer, itinerant worker, abetarsängaren.
Murdered by the Judiciary in collusion with the mine owners who wishes to silence his songs but the songs are still being sung!"
Hill holds an accordion in one hand and a piece of paper in the other that has lyrics from his song Workers of the World Awaken:
"If we workers take a notion,
We can stop all speeding trains;
Every ship upon the ocean
We can tie with mighty chains.
Every wheel in creation,
Every mine and every mill,
Fleets and armies of the nation,
Will at our command stand still."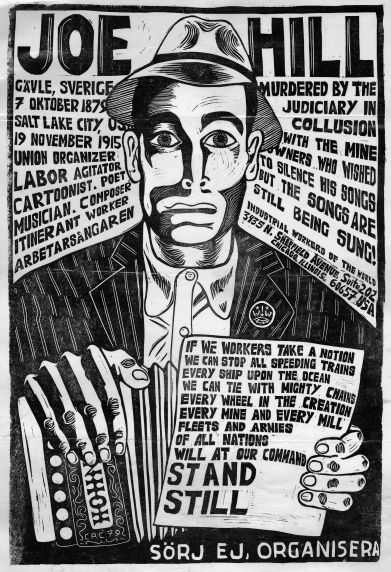 Photographer:
Artist: Carols Cortez