The Reuther Welcomes Gavin Strassel, SEIU Archivist
Posted December 4th, 2014 by mcourtney
in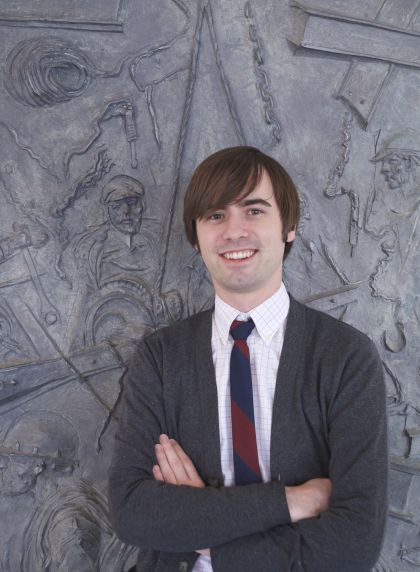 The Reuther Library is pleased to welcome Gavin Strassel as SEIU Archivist. He is a graduate of the University of Michigan School of Information, and previously served in the University of Michigan's Special Collections. He first joined the Reuther team as an Archives Technician in December 2013.
Strassel credits growing up in a union family for his interest in labor records. This background makes him proud to work with records that he knows are crucial for understanding developments in the relationship between workers, employers, and unions in the United States. He explains, "Campaigns such as SEIU's support for the ACA and the current Fight for 15 are just two examples of how this particular union is changing the conversation on labor's role in America. I feel the corresponding materials will be some of the most sought after labor-related records years down the line." In particular, Strassel values documenting the rapid changes taking place in many low-wage, traditionally female-dominated industries represented by SEIU.
He notes that he is eager to work with a group of dedicated archivists who increase access to labor, urban affairs, and Wayne State University collections. Collegiality motivated Strassel to seek a role on staff at the Reuther, and he is excited to participate in the archival profession with the support of his colleagues.
As he settles into his new position, Strassel has plans to increase researchers' access to SEIU records. He aims to collect new SEIU materials as they are created, especially those related to recent organizing surrounding home care and other low-wage workers.
Meghan Courtney is the AFSCME Archivist at the Walter P. Reuther Library of Labor and Urban Affairs.