Meet Rebecca Bizonet, Oral History Project Archivist
Posted May 1st, 2015 by drice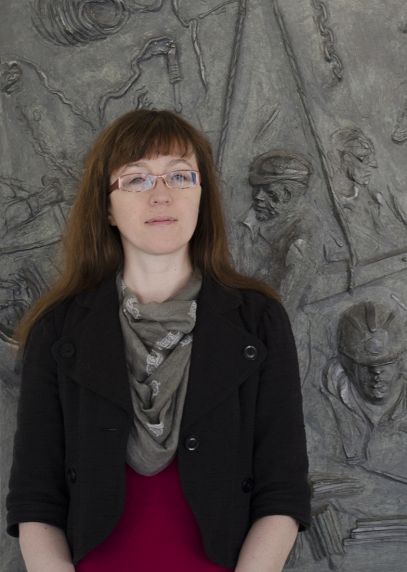 The Reuther Library is pleased to welcome Rebecca Bizonet as project archivist for its oral history collections. Her arrival on staff last week marks the beginning of work on a National Historical Publications and Records Commission (NHPRC) Documenting Democracy grant awarded to the library in 2014.
The main purpose of the project will be to facilitate description and access to over 1,600 previously undiscovered or under-discovered interviews that enrich the understanding of the written documentation on the American experience. Ms. Bizonet's work will ultimately bring new awareness to these unique first-hand perspectives on issues of social justice, civil rights, labor and unions, industrialization-deindustrialization, urbanization, immigration, and migration. She looks forward to facilitating this discovery, believing that, "oral histories … can also foster deeply human connections: at their point of creation, at the time of their discovery, and in their creative, sometimes unexpected, and inspiring uses by individuals and communities."
Ms. Bizonet comes to the Reuther Library with a combined fourteen years experience at the University of Michigan and The Henry Ford. In her varied technical and public service roles, she has developed expertise ranging from arranging, describing, and managing collections to reference, access, and outreach. For the two years of the oral history grant project, Ms. Bizonet will help elucidate recordings and transcripts of diverse stories: the oldest and largest record of urban folk traditions in the U.S., Detroit's African-American community from 1918-1967, and farm workers on the frontlines of field worker and immigrant rights for the past 70 years, to name but a few. About her new role at the Reuther Library, she states, "I am really passionate about connecting archives to people! A fringe benefit of my work is going to be discovering all the cool stuff in the collections along the way."
Deborah Rice is an Audiovisual Archivist at the Walter P. Reuther Library of Labor and Urban Affairs.