HistoryPin: Tour Detroit's Eastern Market
Posted May 7th, 2015 by eclemens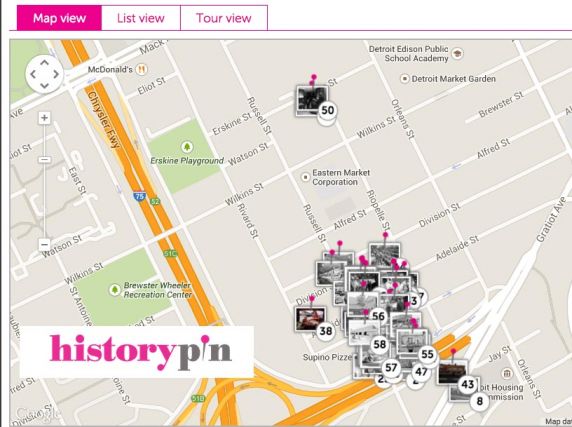 In honor of this weekend's annual Flower Day, we invite you to visit our tour on HistoryPin: "Detroit's Eastern Market"
Since 1891, Detroit's historic Eastern Market has been the go-to destination for fresh produce, meats, and supplies of local businesses and residents. The market spans 43 acres of land on Detroit's east side and is presently the largest public market district in the United States. It is home to over 150 specialty businesses, a thriving wholesale food industry and is a hub in the local artisan community. An average of 30,000-40,000 visitors attends the Saturday market during the high months.
Eastern Market was established in its current location after the city decided to move the Central Market out of Cadillac Square. The six-block public market originally consisted of Sheds 1 & 2, and additional sheds were added in 1922, 1929, and 1981. Through the years, development projects, such as the Fisher Freeway (I-75) connector, changed the face and flow of the market, yet it remains a thriving and vital component of city life.
The tour offers a unique glimpse into the everyday activities of the market between 1910-1981. The images used in the tour were scanned directly from original negatives found within the Detroit News Collection. For more images of the area surrounding Eastern Market, including Lafayette Park, please visit our digital project, the Virtual Motor City.