The Reuther Library Awarded "Latino Americans: 500 Years of History" Grant
Posted June 16th, 2015 by mcourtney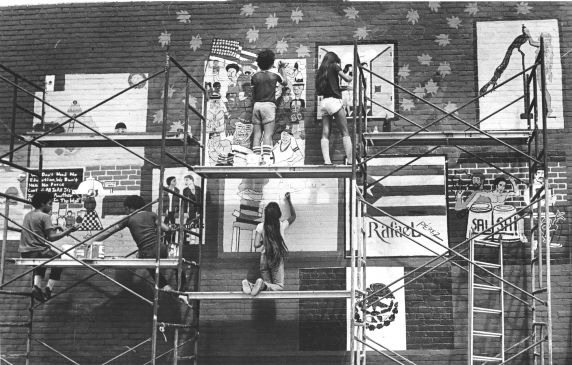 The Walter P. Reuther Library was recently awarded a $10,000 Latino Americans: 500 Years of History grant from the American Library Association (ALA) and the National Endowment for the Humanities (NEH) to support public programming aimed at celebrating and preserving the history of Latino/a Americans in the Detroit metropolitan area.
The grant is part of a nationwide program to support local public programming. The Reuther Library will host events highlighting archival materials that illustrate the Latino/a American experience, including a travelling exhibition and panel discussion on Latino auto workers, a workshop centered on preserving records of community and cultural organizations and screenings of episodes from the PBS series "Latino Americans: 500 Years of History." Events will begin during National Hispanic American Month in September and October and continue into the spring near the Cesar Chavez National Day of Service. A convening of regional organizations will meet near the end of the program to consider future efforts to better document the history and legacy of Latino/a Detroit.
The project is a collaboration between the Reuther Library and the Center for Latino/a and Latin American Studies at Wayne State University. Additional partners include the Detroit Hispanic Development Corporation, the Consortium of Hispanic Agencies, El Museo del Norte/Boulevard House, Matrix Theatre Company, the Community of Latino Artists, Visionaries and Educators (CLAVE), the Julian Samara Research Institute at Michigan State University and the Michigan State University Museum.
The library will also receive the six-part, NEH-supported documentary film Latino Americans, created for PBS in 2013 by the WETA public television station. The award-winning series chronicles the history of Latinos in the United States from the 16th century to present day. (Learn more about the series from PBS.org) Many of the Reuther Library's audiovisual materials were used in the documentary's fifth episode chronicling Cesar Chavez and the United Farm Workers.
Latino Americans: 500 Years of History is part of an NEH initiative, The Common Good: The Humanities in the Public Square.
About the National Endowment for the Humanities
Created in 1965 as an independent federal agency, the National Endowment for the Humanities supports research and learning in history, literature, philosophy and other areas of the humanities by funding selected, peer-reviewed proposals from around the nation. Additional information about the National Endowment for the Humanities and its grant programs is available at www.neh.gov.
About the American Library Association
The American Library Association is the oldest and largest library association in the world, with approximately 58,000 members in academic, public, school, government and special libraries. The mission of the American Library Association is to provide leadership for the development, promotion and improvement of library and information services and the profession of librarianship in order to enhance learning and ensure access to information for all.