Collections Spotlight: Mel Ravitz Papers
Posted December 18th, 2015 by Public Relation...
in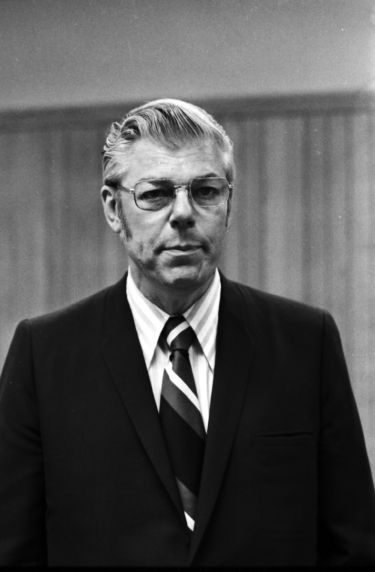 The Reuther Library is proud to announce the opening of an addition to our Mel Ravitz Papers. The new materials include documents related to Ravitz's work and research in urban planning and its impact on communities, ranging from 1945-2009. Notably, the collection includes some of Mr. Ravitz's personal journals from the early 1960s. The addition to this collection may prove particularly valuable to researchers with an interest in the causes and effects of Detroit's 1967 civil unrest.
During his tenure, Dr. Ravitz spoke against the dangers of suburbanization, racism, and poor urban planning in Southeast Michigan. His commitment to social justice showed in all his efforts, however bold. He worked for better city services, mental health facilities, and reliable public transportation. He once proposed confiscating rent payments from slum landlords in order to make improvements to their properties for residents in need. Despite controversy, he defended cross-district busing and advocated for civilian control of the police. Depending on one's view, Dr. Ravitz could be considered an obstructionist or a loyal advocate, but no matter the perspective, he actively promoted stronger neighborhoods and citizens.
Throughout his academic career, Dr. Ravitz worked to improve the lives of Detroit residents. Dr. Ravitz impacted thousands of Wayne State students through his teaching in the Sociology Department from 1949-1987. While working toward his PhD in the early 1950s, Ravitz was hired by the Detroit City Plan Commission as Director of Community Organization. There, he built support for neighborhood organizations and local conservation projects. Although he left the position in 1960, his focus on neighborhood improvement continued throughout his career.
Dr. Ravitz chaired the Wayne County Board of Supervisors from 1966 to 1968, as well as the Southeast Michigan Council of Governments ( SEMCOG ) from 1970 to 1971.
He then served an intermittent four-decade stint on the Detroit Common Council starting in 1961. He served as president of the council from 1969 to1973, when he shifted focus to run in the mayoral primary election. Although he lost the race to Coleman Young, Dr. Ravitz continued to work toward a better Detroit.
Throughout his time in Detroit, Dr. Ravitz was committed to grassroots improvement across Detroit's neighborhoods. His clashes with Mayor Young particularly accentuated this focus, as Dr. Ravitz openly opposed Mayor Young's concentrations of funds downtown, along the riverfront, and at industrial sites. In a letter to Mayor Young in July 1993, Dr. Ravitz stated, "With your departure in December, Detroit will conclude a significant era in its history. Despite our political disagreements, I want you to know that I have always respected your intelligence and commitment to our city and admired your wit."
In Mayor Young's reply letter, he responds, "One of the few things that separates the old war-horses from those newer to the struggle for change is the recognition that all disagreements are not personal. You are correct in your assessment that while we have frequently disagreed in recent years, we have also worked together toward the common goal of providing services to Detroit citizens. I know you to be a man of character, a person committed to Detroit. Your only flaw, as far as I know, is you frequently don't see it my way!" (part III, box 78, folder 3)
For more information about Dr. Mel Ravitz, please browse our updated Mel Ravitz Papers! Several other personal collections contain related material, including the Edward Connor Papers and the Jerome Cavanagh Papers.
This post was authored by Meghan McGowan, Archives Technician at the Reuther Library.