Meet Stefanie Caloia, AFSCME Archivist
Posted March 8th, 2016 by teller
in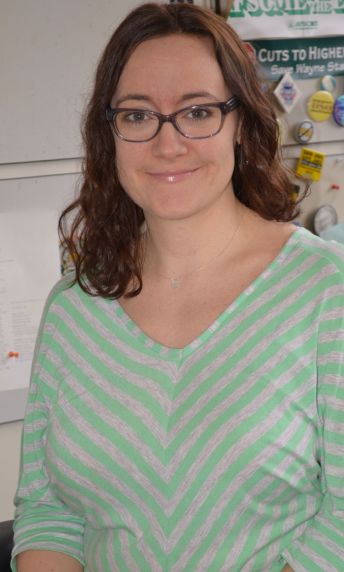 The Reuther Library is pleased to announce Stefanie Caloia as our new AFSCME archivist. Caloia recently completed an 18-month position as the Reuther's AFT project archivist, during which she processed and opened for research 13 collections totaling over 1335 linear feet of records. Her earlier experience includes working at a private archive and processing records for the National Parks Service in Michigan's Upper Peninsula and New Mexico's Carlsbad Caverns. She completed her graduate work at Wayne State, and first came to the Reuther as a practicum student in the spring of 2011.
Caloia will build on the work of previous AFSCME archivists to increase awareness of AFSCME's significant role in the history of the labor movement and communicate how that is relevant today. "AFSCME has historically fought and continues to fight for issues such as women's pay equity, health care, safety on the job, collective bargaining rights, and worker's rights generally," Caloia explained. "An exciting challenge is finding ways to keep history relevant to people involved in the labor movement today. I think people already have an interest, but tapping into that interest and communicating the different ways that people can use the archives is something that I look forward to working toward. I want to make sure people know we have these rich collections that are open for use."
Active in the archives profession, Caloia is currently the secretary of the Michigan Archival Association, chair of the Redford Township Historical Commission, and a member of the Society of American Archivists J. Franklin Jameson Archival Advocacy Award Subcommittee, which recognizes archival advocacy efforts outside of the archives profession. She loves working with archival photographs from various formats and photo processes. She cites her undergraduate degree in photography as a reason she came to the archives profession. She is looking forward to combining these two loves by delving into the photographs in the AFSCME collections.
Troy Eller English is the Society of Women Engineers archivist at the Walter P. Reuther Library of Labor and Urban Affairs.