Event: Sacramento Knoxx and Storytelling as History
Posted April 18th, 2016 by mcourtney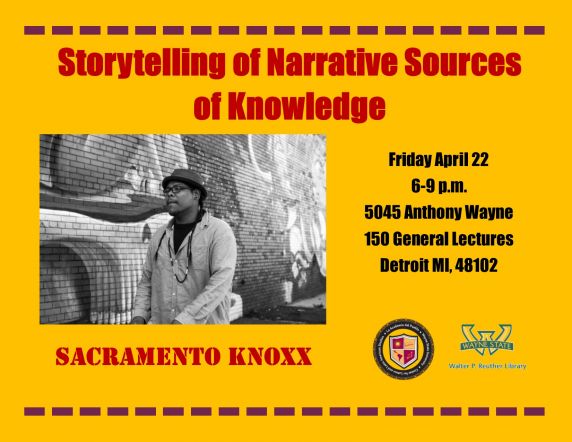 The 5th event in our series "Latino Americans: 500 Years of History" will take place at 6pm this Friday, April 22, as part of the Wayne State University Center for Latino/a and Latin American Studies' Academia del Pueblo!
Join us in General Lectures room 150 for an exploration of storytelling and narrative evidence. We'll feature a performance from Sacramento Knoxx, who will share his new piece on Southwest Detroit.
We will also discuss the future of the Detroit area's archival records in a panel:
"What Do We Need to Document Our Community's History Into the Archives?"
Moderator
Maria Cotera, Director, Museo del Norte, U of M, Ann Arbor
Discussants,
Mary Lluevanos, Community of Latino Artists, Visionaries and Educators (CLAVE)
Alicia Díaz, Instructor, Center for Latino and Latino American Studies, WSU
Ozzie Rivera, Director of Community Engagement, Southwest Solutions
Bring your questions and ideas!
More about Sacramento Knoxx:
As an international artist Knoxx is based in music, film, design, and community organizing as he performs across the world & facilitates educational workshops, and interactive performances that are raw, innovative, eclectic styles of creative expression and critical thought. Knoxx delivers a participitory educational environment that is entertaining with film, hip hop, and culture, while addressing and confronting issues of environmental & social justice, exploring cultural identities with dynamic storytelling experiences.
To learn more about the Academia del Pueblo conference and register to attend, please visit:
http://events.wayne.edu/2016/04/23/7th-annual-la-academia-del-pueblo-lat...