Collection Spotlight: LGBT Materials at the Reuther Library
Posted July 19th, 2016 by Public Relation...
in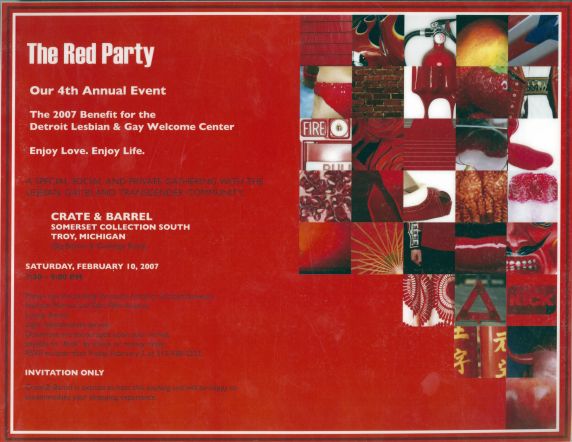 The Reuther Library is pleased to announce the opening of several new collections related to LGBT History in Southeast Michigan.
Though collecting material related to civil rights and social movements in Southeast Detroit has always been a mission for the Walter P. Reuther Library, we aim to grow the LGBT collection to include a broader range of voices. To this end, the Reuther will have a table at Detroit's Hotter Than July! picnic on July 30th at Palmer Park to bring greater awareness to our archival collections. This event is part of a week-long celebration of Black LGBT pride and is sponsored by LGBT Detroit.
In conjunction with this festival the Reuther is pleased to announce that the LGBT Detroit Records are open for research. This collection documents 20 years of efforts to strengthen Detroit's LGBT community. The collection includes a significant amount of material from Kick Publishing, then the third Black American LGBT media company in the United States. Kick Publishing was revitalized into the non-profit organization KICK - The Agency for LGBT African Americans. In 2015, the group became LGBT Detroit. This collection shows the evolution and growth of one of the most influential African American LGBT organizations in Southeast Michigan as well as the history of the Hotter Than July event!
LGBT Detroit joins a number of LGBT-related materials at the Reuther Library:
The South Eastern Michigan Gay and Lesbian Association (SEMGLA) Records
This collection illustrates the work of a group that began as the Assocition for Suburban People, or ASP, that was primarily an organization of gay men. By the mid-1980s, with increased visibility in the community, ASP evolved into Michigan's largest LBGT educational organization and in 1985 changed its name to more accurately reflect its mission.
Ernest L. Horne Papers
Ernest L. Horne, a retired General Motors Research Laboratory Librarian and Archivist, has been a known activist in the Detroit gay civil rights movement since 1979, holding membership and leadership positions in several area GBLT organizations. His papers document the activities of the gay and lesbian liberation movement in Detroit, primarily through the records of three organizations: The Association of Suburban People (ASP), South East Gay and Lesbian Council (SEMGLA), and Detroit Area Gay and Lesbian Council (DAGLC).
Gay Liberator
Publication covering Detroit Metro news relevant to the LGBT community, published 1970-1976 by Pansy Press.
Michigan Coalition for Human Rights Records
Initially organized with the goal of providing a liberal alternative to conservative Christian organizations such as The Moral Majority, the group's primary issues included racism, militarism, gay rights, unemployment, poverty, and other socio-economic and local political topics.
Mary Sappington Papers
A collection of back issues of Metra Magazine a bi-weekly magazine, established in 1979, by Mary Sappington. The magazine covers political, lifestyle, and entertainment events for the gay community in Michigan, Ohio and Ontario, Canada.
If you have materials related to LGBT life in the Detroit metro area, please consider donating them for public research at the Reuther Library. Contact Louis Jones at louis.jones@wayne.edu for more information.
This article was contributed by Elizabeth Nicholson, an archives technician at the Reuther Library and a recent graduate of Wayne State University's SLIS program.