Digitizing Series 10 of the Industrial Workers of the World Records
Posted August 3rd, 2016 by Public Relation...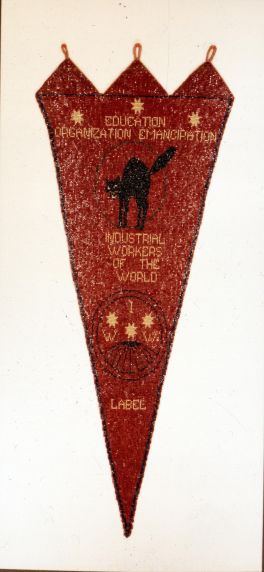 This May, at the start of my last semester at Wayne State's School of Library and Information Science, I began a Practicum in Digital Content Management here at the Walter P. Reuther Library of Labor and Urban Affairs. Over the last three months I have spent many hours with Series 10 of the Industrial Workers of the World (IWW) Collection. This series, which is mostly pamphlets and handouts, needed digitization to keep it alive. Access to the series was restricted, not for inflammatory content, but because of the fragile condition of the early 20th century documents. This made me a kind of digital life support for this information rich material.
I spent the majority of May and June scanning folder after folder of collected documents. Pamphlets had a tendency to want to crumble in my hands, and despite my past experience digitizing print collections for access only, I was able to see the importance of high resolution scans in practice. The files I created will be more than just digital surrogates, as they will soon be the primary means researchers use to interact with this series of the IWW collection. It will also act as preservation copies. Since these files will be used for access as well as preservation, metadata was another key part of my early summer, and crucial to fulfilling the scope of the practicum. Uniform metadata was used to ensure the collection can be searched. Keywords were taken from the online finding aid and standard copyright statements.
July turned into a hodgepodge of little tasks. Many of the pamphlets in Series 10 were photocopies of originals, and with a little digging it was discovered that the Reuther never had the originals. A list was created of owned and unowned content, so that any available originals could be searched for. This was followed by an attempt to reconcile the current IWW finding aid with the actual contents of the collection. Lastly, IWW photos not related to Series 10 needed rehousing and descriptive work completed.
The experience of working on a collection of this size and the variety of the content, as the IWW is an international organization, at first seemed overwhelming. My original intent was to try to sum up the documents of the collection in this post, but that soon revealed itself to be far too involved. Trying to tie a connection between miners unions, hotel workers, and uncountable court cases was enough to make my head spin. However certain aspects of this series did stick out. I spent several days scanning pamphlets about Centralia, Washington, where a purported massacre occurred on Armistice day 1919. Certain names, like Joe Hill, soon became familiar as I moved from box to box. I even started recognizing the key players in photos from outside Series 10.
My time at the Reuther has been an excellent learning experience. I am glad to have had the chance to work with such a large and varied collection. My experience allowed me to put into practice skills that I have primarily only used in Digital Content Management classes, thus far in my career. I hope my work ends up being of use to future researchers and prolongs the life of Series 10 of the Industrial Workers of the World Records collection.
During Spring/Summer 2016 semester, the Reuther Library worked with a practicum student from the School of Library and Information Science at Wayne State University to provide work experience in the area of digital content management.
The practicum student, Sarah Andrus, is now a graduate of the SLIS program and presently works at The Henry Ford's Benson Ford Research Center as their Technical Services Specialist.