Exhibit Announcement: Belle Isle State Park Photos on Display
Posted August 29th, 2016 by eclemens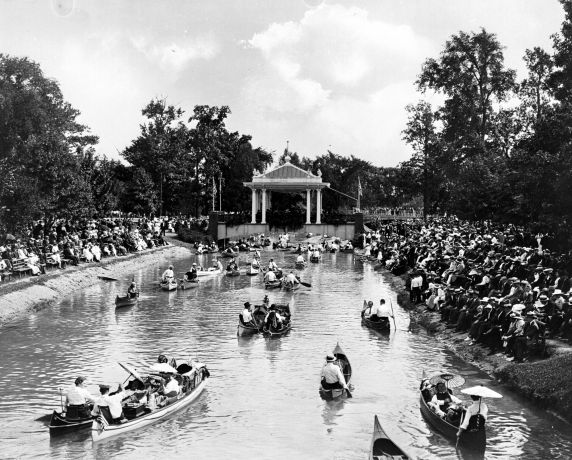 Belle Isle became Michigan's 102nd State Park in 2014 through a lease agreement made with the City of Detroit. In honor of this occasion, the Reuther Library presents an exhibition of images that show the important role the park has played in the lives of Detroit's residents. The exhibition will run from August 2016 to December 2016.
Belle Isle is a 985-acre island park, located on the Detroit River between Detroit and Canada. First known as "Wahnabezee" (White Swan) by the Potawatomi, and later "Hog Island" by the French, it came to be known by its current name, Belle Isle (Beautiful Island), in 1845. The City of Detroit purchased Belle Isle for use as a public park in 1879 and hired landscape architect Frederick Law Olmstead, best known for New York's Central Park, to design and develop the land. The island continued to be developed into the following century, and is home to many Detroit landmarks, such as the James Scott Memorial Fountain, Anna Scripps Whitcomb Conservatory, Belle Isle Casino, Dossin Great Lakes Museum, and beautiful Belle Isle Aquarium, the oldest aquarium in the country.
For many living in Detroit's urban and industrial landscapes, Belle Isle provided an opportunity to reconnect with nature and offered countless social and recreational opportunities. Traditionally, the park played an important role in local civic life, hosting rallies, concerts, athletic events, and countless other communal pursuits. Although she is no longer a city park, Belle Isle remains a beloved mainstay in the lives of thousands of residents.
The images in this exhibit come from the Detroit News Photonegatives, a collection of nearly one million images shot by Detroit News photographers between 1873 and 1986. Images in the collection follow the social, physical, and political growth of the Detroit Metropolitan Region throughout the twentieth century. To view original negatives, please make an appointment with an audiovisual archivist. For access to over 36,000 digital images from the collection, please visit the Virtual Motor City Collection at http://digital.library.wayne.edu/digitalcollections.