The Creation of Dr. Martin Luther King Jr. Day
Posted January 6th, 2017 by mcourtney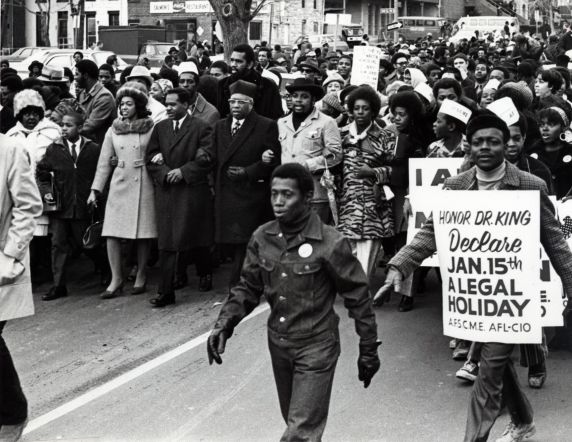 The Reuther Library and Wayne State University will be closed in observation of Dr. Martin Luther King Jr. Day
While we're out, we wanted to tell you a bit more about the way this became a national holiday and the people who worked to make sure it happened.
Dr. King was assassinated April 4, 1968, in Memphis, Tennessee , where he was visiting striking sanitation workers in their fight for union recognition with the American Federation of State, County and Municipal Employees (AFSCME). It was an audience of strikers and supporters who heard his final speech, "I've Been to the Mountaintop." However, Dr. Martin Luther King Jr. Day does not commemorate a great leader's death – it commemorates his life. For this reason, Dr. King's birthday, January 15, was proposed. Today, we celebrate the 3rd Monday in January and take time to remember Dr. King's call to service.
Just 4 days after Dr. King's assassination in Memphis, John Conyers, a Michigan congressional representative, introduced a bill to recognize Dr. King's birthday as a federal holiday. However, the bill was not signed into law until 1983. In the intervening 15 years, labor unions, especially AFSCME, worked to build support for the national holiday. Members participated in annual marches commemorating King's death in Memphis. As the movement grew, members began marching in support of a holiday on January 15th in various cities across the country, notably Washington D.C. and New York. Though unions were not the only participants in marches, they led the charge to ensure Dr. King's memory was not forgotten.
The bill to establish Dr. King's birthday as a national holiday came up for a vote in 1979, but did not pass on the first attempt. Unfazed, AFSCME and other unions redoubled their efforts to create the holiday. They were joined by celebrities such as Stevie Wonder, who recorded "Happy Birthday" in 1980 to help draw awareness to the fight. The original single included excerpts from Dr. King's speeches as a B-side.
The bill finally passed in 1983, and federal observance began in 1986. Since then, many have worked to make sure that the significance of Dr. King day is understood. Congressman John Lewis of Georgia joined with colleagues to promote the "day of service," when we are urged to continue the work that Dr. King began during his short life. At Wayne State, an annual tribute luncheon takes place and funds are raised to support nonprofit work.
To learn more about AFSCME's support for the creation of Dr. Martin Luther King Jr. Day, visit our King Memorials photo gallery or explore the AFSCME Office of the President: Jerry Wurf Records.