Exhibit Opening: "12th Street, Detroit, 1967"
Posted April 10th, 2017 by mcourtney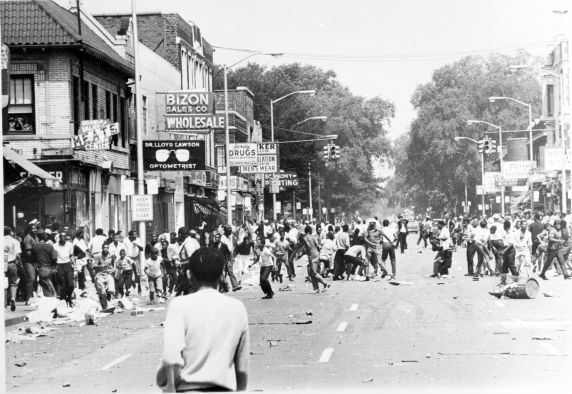 Please join the Reuther Library, 5:30-7:30PM, April 27 for an opening reception as we open our exhibit "12th Street, Detroit, 1967: Employment, Housing, Policing, and Race Relations in Evidence." Speakers include Dr. Melba Boyd, Distinguished Professor of Africana Studies at Wayne State University, and Dr. Cynthia Fleming, Professor Emeritus, Department of History, University of Tennessee, Knoxville.
Visitors will get a first look at the Reuther's exhibit and the archival documents that serve as evidence to understand the events surrounding Detroit's Civil Unrest.
There are few topics in Michigan's history as divisive as Detroit's 1967 Civil Unrest. The five-day period of chaos and violence caused physical damage to the city and emotional trauma to its residents. Decades later, the aftereffects of this damage and trauma linger on through a profound disconnect between Southeastern Michigan's people and communities. This exhibit hopes to encourage analysis and appraisal rather than blind assumptions.
The Reuther Library's archival collections illustrate crucial details that may be known primarily to professional historians and academics. This exhibit aims to break down long-standing perceptions that history is the property of such an exclusive group. A greater knowledge of these documents and how to analyze them can empower visitors to create independent insights founded in evidence. The Reuther is home to a wealth of resources that document not only the chaos and trauma that unfolded in Detroit during the summer of 1967, but also the social, economic, and political landscape before and after the violence. By presenting these materials in a transparent way, this exhibit hopes to throw open the doors of the archive and ensure that the power of these documents belongs to the community.
Through the presentation of primary sources, the exhibit project will offer an opportunity for analysis, interpretation, and discussion of issues such as racial inequality, law and politics, economic distress, and urban development. Viewers will be encouraged to use creative and critical thinking as tools for examining how Detroit's past impacts the current climate and future possibilities.
The Reuther Library joins several area cultural institutions in a partnership to mark 50 years since 1967, including the Detroit Historical Society, The Detroit Institute of Art, The Charles H. Wright Museum of African American History, The Michigan Science Center, and MOCAD. Look for programming and exhibits from these institutions throughout 2017.
The exhibit will be on view in the Reuther Library Atrium through January 2018.