Collection Spotlight: Harper Hospital
Posted June 7th, 2017 by Public Relation...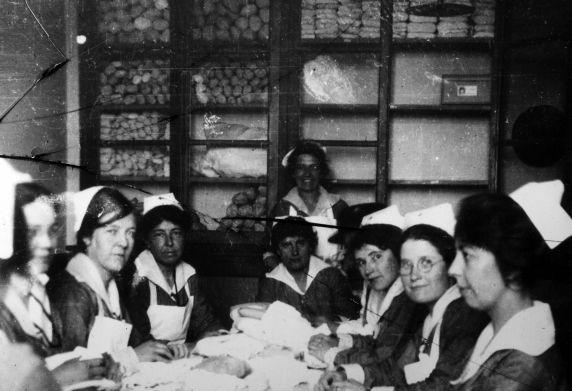 The Harper Hospital collection contains records from the nurses and doctors of Harper Hospital during World War I. Included is information about their location in France, dates of when they left the United States and when they returned, and an extensive list of those men and women who served Base Hospital Number 17. Hospital staff, if large enough, were assigned to their own base hospital, but could be combined with staff from other hospitals.
Harper Hospital was founded in May 1863 on land donated by Walter Harper. The hospital's first patients were Civil War soldiers. The hospital continued to serve as a military hospital providing care during the Spanish-American War, and both world wars. The hospital started as a general hospital, but added a nursing school in 1883.
The Harper Hospital collection contains images depicting wartime life in France, including a photo album visualizing the ambulance train. Images depict the "lying infectious car," quarters for those on the train, the ward car, the pharmacy car and many others. The album creates an image of a bustling staff working to maintain the health and well-being of troops while on a moving train. The cramped quarters show the difficulty that must have existed in the efforts to help these troops get to sanctuary safely and without losing health. Further, in a letter to the nurses thanking them for their care and assistance, Sergeant Phil Towers wrote:
"I wish to thank each and every one of your Corps for your token of appreciation presented to me for the few and tiny favors that were in my power to give you, and had my rank been high enough, I assure you, there would have been no end, to anything your hearts may have desired, for in this great nations task, each of you have been untireing, patient, and faithful, and our grand United States owe a great debt to each of you."
Within a different folder are poems written by a nurse who had been at the hospital, Janet McDonald. Another folder contains the passport of a nurse Elizabeth Vaughan, another the correspondence of a Ms. Millie Morris to her friends and family back home. Within the correspondence of Miss Emily McLaughlin is information painting a not so horrible picture of life in France. It wasn't all stitches and sutures, but some sophistication and elegance was also found. Miss E. McLaughlin was requested for dinner at the American Ambassador's home. Additionally, Miss McLaughlin received some rather prestigious callers including the daughter of the president of France. Ms. McLaughlin's papers show the procedure one had to go through to travel in wartime and post-war France, including various permission slips and documents allowing her to travel from district to district.
Perhaps a feather in the cap of Base Hospital 17 is a letter from Commander-in-Chief John Pershing praising the efforts of the hospital. "Base Hospital 17 arrived in France when the A.E.F. was a mere infant and was the first American organization to arrive at Dijon. To the people of that locality, the unit was convincing and representative evidence of the beginning of American support."
Other accolades are also evident in the collection, Chief Nurse Emily McLaughlin was awarded a medal by the Prince of Wales for her efforts of the war front. The Harper Hospital Collection shows not only the life and motivation of one single unit within the warfront, but also information regarding the prestigious institution.
This article was written by Alexandra Penn, a student in Wayne State University's School of Library and Information Science, in 2017.