William Bunge, Radical Cartographer and Radical Member of Wayne State Faculty
Posted December 5th, 2017 by astankrauff
The Reuther Library is proud to house archival materials detailing the work of William Bunge, former Wayne State Professor and activist, who created the Detroit Geographical Expedition Institute to offer free courses to Detroit residents in cartography, geography, community activism, and urban planning. Over the years, Bunge's radical stances brought him into conflict with the university administration and the United States Government.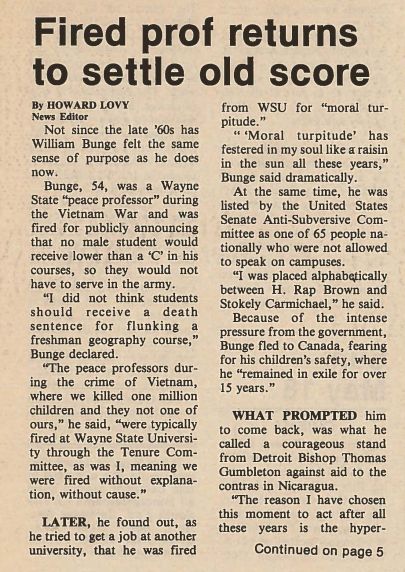 William Bunge, born in LaCrosse, Wisconsin in 1923, came to serve as an Assistant Professor of Geography at Wayne State from 1962 to 1969. Notably, Bunge saw cartography as an agent for social change. He embraced unorthodox teaching methods, including bussing his students to Detroit's roughest neighborhoods to undertake what he called "human exploration." His methods of radical cartography included direct lobbying on political policy matters, making connections particular households in Detroit and supporting them monetarily, and analysis of urban problems.
To further these goals, Bunge worked with Gwendolyn Warren to create the Detroit Geographical Expedition Institute (DGEI) in 1968, initially supported by both Wayne State and Michigan State University. The DGEI was described as an "experimental community college" and offered free courses to Detroit residents in cartography, geography, community activism, and urban planning. By 1970, the DGEI had 500 students in all of its 11 courses. DGEI closed due to funding cuts shortly thereafter.
In 1969, Bunge publicly announced that no male student would receive lower than a C in any of his classes. Like much of Bunge's work, this had a political motive - at the height of the Vietnam War era, subpar grades for male students may well have meant being drafted into the military. Bunge publicly acknowledged that he was creating classroom policies to safeguard students from going to war.
He also refused to sign Wayne State Oath of Allegiance and Fidelity, AKA the Loyalty Oath, whereby state employees promised not to join or agitate for a union. While Wayne State never officially required the oath of employees, the State of Michigan did.
In 1969, Wayne State fired Bunge for "moral turpitude." During the same year, the United States Senate Anti-Subversive Committee banned Bunge and many other activists from speaking on American campuses. He left the United States to teach at the University of Western Ontario and later York University in Canada. Later, he would retire from teaching but continued to write on matters of geography and cartography, publishing several works in the 1970s and 1980s.
Bunge returned to Wayne State in 1986 ostensibly to support Detroit Bishop Thomas Gumbleton's stand against U.S. aid to the Contras in Nicaragua. While in Detroit, he also attended Wayne State University's Board of Governor's March 26th meeting to settle the score of, in his words, "character assassination" created during his dismissal. He was arrested from this meeting and then thrown in jail for disruption of the Board of Governors meeting. Later that spring he fought the charges in Detroit's 36th District Court.
Bunge passed away in Canada in 2013.
If you are interested in learning more, consider related collections held at the Reuther Library. These may help you understand the social and political climate of Wayne State's campus in the 1960s, as well as the perspectives of administration and student groups:
Wayne State University Board of Governors Proceedings
Office of the President William Rea Keast Collection Records, 1965-1971
Reuther Library Vertical Files