Exhibit Announcement: Wayne State University Architecture
Posted January 26th, 2018 by eclemens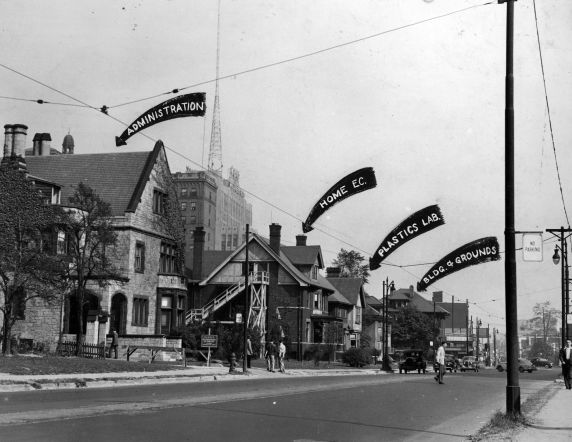 Wayne State enjoys one of the most distinctive campuses in the state. The development of this space, however, has been a constant challenge due to its urban setting and lack of available land. The campus we enjoy today is the result of nearly 100 years of adaptive reuse of historic structures and new construction.
In celebration of Wayne State University's sesquicentennial, the Reuther Library is pleased to announce the opening of an exhibit that highlights our university's rich architectural history. Wayne State University Architecture: Select Photos from the University Archives features twelve black and white photo prints that reflect on the types of buildings that make our campus so special, from the neighborhood houses that once hosted classrooms and departments to mid-century masterpieces. The exhibit will be on display in the Leonard Woodcock Gallery through Fall 2018.
The unexpected blend of old and new makes Wayne State an interesting place to explore. To learn more about our eclectic campus, please visit our reading room to use the University Buildings Vertical Files or visit the Wayne State University Buildings Collection to view nearly 1,600 digital images from the University Archives.