Brown Bag Series - "Black Power, Inc.: Global American Business and the Post-Apartheid City" June 6, 12-1pm
Posted June 5th, 2018 by mcourtney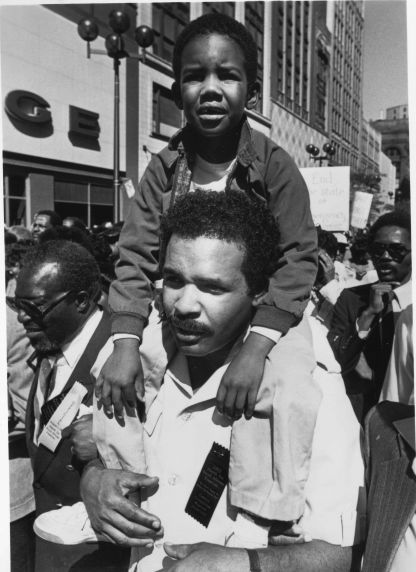 Please join the Reuther Library for a brown-bag discussion with Jessica Levy of Johns Hopkins University, winner of a Sam Fishman Award, who will be discussing her project, "Black Power, Inc.: Global American Business and the Post-Apartheid City" from 12-1pm in the Reuther Library conference room.
This project attempts to explain the rise of black empowerment in the United States and southern Africa during the late twentieth-century. Black empowerment, defined as private and government programs promoting black entrepreneurship, vocational training, and other forms of black commercial activity, flourished in the late twentieth-century as a popular response to racial unrest in urban areas from North Philadelphia to Soweto. "Black Power, Inc." analyzes the intellectual and financial investments made by corporate executives, government bureaucrats, and black entrepreneurs in transforming black dissidents into "productive citizens" in an economic and civic sense. As these efforts expanded, the transnational discourse of black empowerment appropriated and profited from a global black power politics. By centering private capital alongside state violence, my project explains Black Power's demise in a way that reveals the penchant for free enterprise that blossomed within the global black freedom struggle.
"Black Power, Inc." bridges the History of Capitalism, U.S. International History, and Global Black Studies and explains the relationship between black internationalism and the post-war global American business in ways too often obscured by the separation of these fields. Drawing on corporate and "movement" records from the United States and South Africa, I trace the expansion of black empowerment politics amidst contestations for control over black communities, corporate board rooms, and commercial markets across the African diaspora. In doing so, I show how the discourse of black empowerment created and reinforced distinctions between "productive" and "unproductive" black labor; male and female roles in the household and, by extension, the economy; and acceptable and unacceptable mechanisms of redistribution (i.e. charity vs. reparations). In spite of the revolutionary fervor that accompanied the end of Jim Crow and Apartheid, "Black Power, Inc." shows how American corporations and black entrepreneurs worked together to forge a new politics linking American business with black liberation at home and abroad.
Feel free to bring your lunch and your questions for Jessica!