Gallery Announcement: Images from the Jerome P. Cavanagh Photographs
Posted September 10th, 2018 by eclemens
in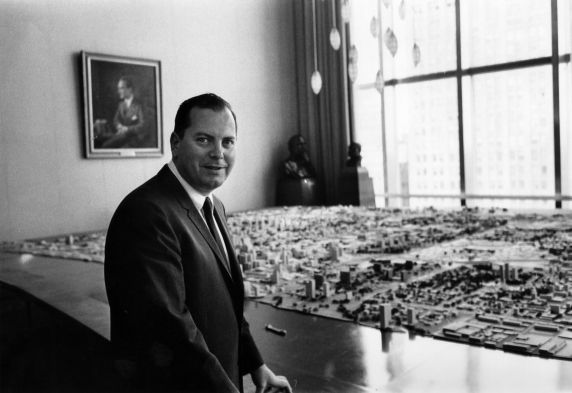 The Walter P. Reuther Library is pleased to announce our latest image gallery: Selections from the Jerome P. Cavanagh Photographs.
Jerome P. Cavanagh (1928-1979) was mayor of the city of Detroit from 1962 until 1970. Born in Detroit on June 16, 1928, Cavanagh was one of six children born to Irish immigrant parents. Cavanagh practiced law in Detroit from 1955 to 1962. At age 33 he won an upset victory over incumbent Mayor Louis C. Miriani and became one of the country's youngest big-city mayors. He won a second four-year term in 1966 by an overwhelming majority. During his eight years as Mayor of Detroit, Cavanagh was nationally recognized as an outstanding urban leader, serving on national committees under both President Kennedy and President Johnson and became the first person ever to serve simultaneously as president of the nation's two leading organizations of municipal officials: the National League of Cities and the U.S. Conference of Mayors. Life magazine named him as one of the 100 most important young men in the country, part of the "take-over" generation.
Cavanagh was mayor during the Civil Unrest of 1967, and worked to rebuild the city, obtaining federal assistance and positioning Detroit as the first Demonstration City of the federal Model Cities Program he helped formulate. He established the New Detroit Committee to help reshape the city and set up the Mayor's Development Team, an attempt to make municipal government more responsive to the people's needs.
The newly digitized content covers events such as the 1968 Olympic Bid, visits from Lyndon B. Johnson, the aftermath of the 1967 unrest, political campaigns, and images of Mayor Cavanagh with various prominent Detroit business people, union members, politicians, and community groups, as well as a few personal photos. The 100+ images, produced mostly by city staff, offer unique insight into the political career of one of Detroit's most influential politicians.
For further exploration of the career of Mayor Cavanagh or Detroit in the 1960s, please consult the Jerome P. Cavanagh Papers and the Jerome P. Cavanagh Photographs. Further questions? Please contact reutherrefernce@wayne.edu -- we would love to assist you in your research.