Sarah Lebovitz Joins the Staff of the Walter P. Reuther Library
Posted September 20th, 2018 by Public Relation...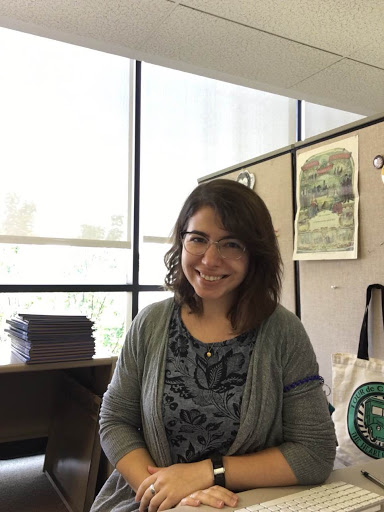 The Reuther Library welcomes Sarah Lebovitz to its staff as the archivist for the Service Employees International Union.
Receiving a 2017 graduate degree from the University of Michigan's School of Information, Sarah specialized in Archives and Records Management from that institution. Utilizing the most recent developments in archival best practices, she has processed numerous collections at the Bentley Historical Library, as part of her training at the University of Michigan and later at the Hudson Library and Historical Society in Ohio.
Most impressively, she served as a Global Information Engagement Program Fellow at the University of Western Cape Robben Island Museum Mayibuye Archives in Cape Town, South Africa. There, she developed training workshops and processing guidelines associated with the Mayibuye Archives in addition to processing four of its collections. In speaking of this experience, Sarah maintains that, "[t]hey instilled in me a passion for archiving social justice work and an understanding that activist material can be both extremely sensitive and extremely powerful." To be sure, she will be drawing from this experience in her work as SEIU archivist.
SEIU began archiving its records with the Reuther Library in 1992, becoming, at the time, one of seven large international unions to designate the Reuther Library as its official depository for its historical records. Continuing the work of previous archivists for the Service Employees International Union, Sarah will be appraising, collecting and processing SEIU material while providing reference and outreach to SEIU collections. Supporting the union with its records management and electronic records programs are also areas in which she will be lending her expertise.
With a membership approximating 2 million, SEIU organizes a range of public sector workers, healthcare workers and those employed in property services, the latter of which includes janitors and security officers, amongst others. While SEIU history, spanning back to 1921, began with the organization of janitors and window cleaners, the union has developed a rich history associated with each of the sectors in which it currently organizes. As Sarah has found in her short time in this position, "[o]ne of the things I've noticed while answering reference questions, going over the history of the union, and manning the SEIU twitter is SEIU's long-term commitment to its causes." It is not surprising, then, that her attraction to the SEIU archival position largely stemmed from causes reflecting a social justice perspective. As she has explained, in addition to her work at the Mayibuye Archives, during her studies at the University of Michigan,
"[t]here was a course that I took with Margaret Hedstrom where we examined the ways in which archives function as social memory repositories, as well as the responsibilities of archives in making material accessible. Part of our discussion focused on memory, trauma, and human rights, and the ways in which archives can offer support. Understanding how archives are used globally to help further social justice causes, as well as maintain records for accountability, fit in well with how I view this position."
With ongoing efforts of SEIU to support affordable healthcare, a $15.00 an hour minimum wage, a program aptly titled, 'justice for janitors,' in addition to other initiatives, the archives of the Service Employees International Union will allow Sarah to manage the records of a union that values the importance of social justice as it relates to its members, those it hopes to organize and others.
For those interested in learning more about SEIU's archives and history, please contact Sarah at sarah.lebovitz@wayne.edu.