Fishman Grantees 2019
Posted March 4th, 2019 by mcourtney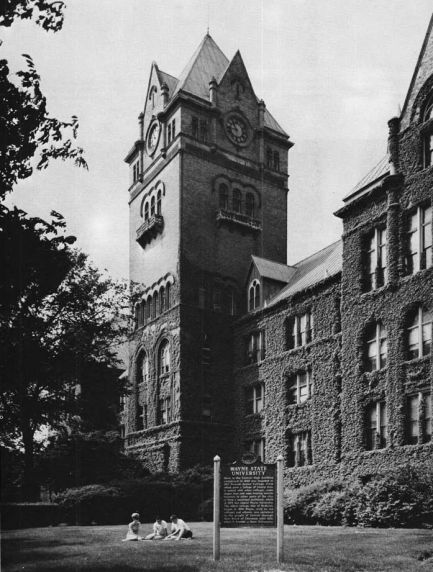 The Walter P. Reuther Library is proud to announce the recipients of the 2019 Sam Fishman Award.
These annual grants provide up to $1,000 to support travel to the Reuther Library to access archival records related to the American labor movement. The award is named in honor of Sam Fishman, a former UAW and Michigan AFL-CIO leader.
As part of their research visits, awardees are invited to speak about their work at an informal event at the Reuther Library and/or discuss their research on Tales From the Reuther Library. Watch for details of these events as individuals finalize their travel and research plans.
Carl Ewald
Ewald's research explores rural grassroots environmentalism in the midst of Appalachian coalfield deindustrialization during the 1960s and 1970s. Importantly, the project challenges both the historiography of the often, urban centric studies of deindustrialization in the twentieth century, as well as the scholarship related to rural labor radicalism of the same period. A core focus of this analysis aims to illuminate the ways the Miners For Democracy movement became central actors in a broad based coalition of working-class led organizations who challenged the growing realities of ecological degradation and economic change in central Appalachia. The radical miners of the Miners For Democracy movement articulated specific place and class-based notions of 'environmental democracy,' which brought local ecological and economic concerns, into the larger regional and national political conversations of the period.
Lori Flores
Latino food workers of all kinds—from farmworkers to restaurant workers to street vendors—continue to experience intense discrimination, criminalization, invisibility, and exploitation in the United States. This treatment is only compounded by many of these workers' vulnerabilities as racial minorities, immigrants (oftentimes undocumented), and "back of the house" workers or laborers in the informal economy. Americans have come to appreciate and demand Latino food and foodways, but have a much more fraught relationship with Latinos' visible presence in the country and labor in various foodscapes.
For a region with such a multicultural Latino demographic, the Northeast has been severely understudied compared to regions like the U.S. Southwest and Midwest. This is also the case with the study of Latinos' involvement in food-related boycotts over the second half of the twentieth century.
Victoria Grieve
This project takes a thematic/biographical approach to five women journalists who wrote for the Federated Press (FP) from 1930 through the 1950s: Julia Ruuttila, Jessie Lloyd O'Connor, Virginia Gardner, Miriam Kolkin, and Eva Lapin Maas. Connected by their relationship as journalists for the FP, they also participated in leftist social and political movements. They and many other female labor journalists formed an important network that linked labor journalism with labor feminism and other political issues. From the 1930s through 1956, the Federated Press served as a hub for progressive political activists. The Federated Press thus served an associational purpose; members learned news about each other, nurtured a feeling of shared interests, and supported collective action. For example, when Southern civil rights activist Carl Braden went on trial for sedition in Kentucky in 1954, FP editor Miriam Kolkin brought them to New York, where they met other activists, raised both funds and awareness, and spoke to crowds about the entwined problems of segregation and anticommunist witch hunts. Anne Braden met Harvey O'Connor at a speaking engagement in Boston, and the two couples became lifelong friends.
By studying both the journalism and the activism of each woman, this project highlights how the labor press participated in the major movements that motivated the Left throughout the century, linking the Old Left of the 1930s to the New Left of the 1960s, and filling in the "gap" between First and Second Wave feminisms.
Ivon Padilla-Rodriquez
Farm work is considered the most hazardous industry for young workers, and yet estimates show that the U.S. currently employs between 200,000-500,000 agricultural child laborers a year. A vast majority of these youth live in extreme poverty, are of Mexican and Central American descent, and belong to families of mixed immigration statuses. Although the U.S. implemented a national child labor ban in 1938 as part of the Fair Labor Standards Act (FLSA), Latinx children continue to toil in fields nationwide.
To combat rights violations, migrants' rights advocates fought to enact social welfare initiatives for farmworking children along their migratory route. During the long civil rights era, teachers and women UFW organizers pursued legislative channels to try to get stricter child labor protections, and special educational and childcare programs created for migrant youth.
At the same time, farmworker organizations, the Secretary of Labor, and migrant families and children contested the meanings of labor and legal boundaries of childhood in court to challenge violations of the Migrant Education Program and the FLSA's agricultural child labor provisions.
This project ultimately shows how labor laws helped to define modern boundaries of childhood and citizenship. It explains how the twentieth century U.S. labor regime practiced immigration exclusion to effectively make Mexican children migrant by denuding the legal citizenship of U.S.-born minors; making undocumented children doubly migrant; and denying both sets of youth the rights of a "modern" childhood.
Daniel Watson
This project examines how American blue collar workers intervened in the debate over the course of domestic modernization through their responses to workplace automation by focusing on rank and file workers and leaders in two unions: the UAW and the ILWU. A focus on these unions provides an ideal cross section of working class perspectives on automation: not only are the primary spheres of activity for these unions geographically disparate, with their industries affected differently by the Cold War, the climate of debate differed. East Coast and Midwestern intellectuals were at odds over automation during this period, frequently drawing upon the automotive industry as a case study, whereas the West Coast was largely devoid of this intellectual presence.
The state and corporate vision promoted automation as the symbol of an ideal modern consumer capitalist future without physical toil and abundant with consumer goods. By analyzing worker contributions to this debate I seek to illustrate the effects of public diplomacy and understandings of patriotism and international competition on worker responses to technological development.
Note: Project descriptions have been excerpted from the candidate's application abstracts and may not reflect the exact nature of completed research.