AFSCME's History-Making 1964 Convention
Posted April 15th, 2019 by scaloia
in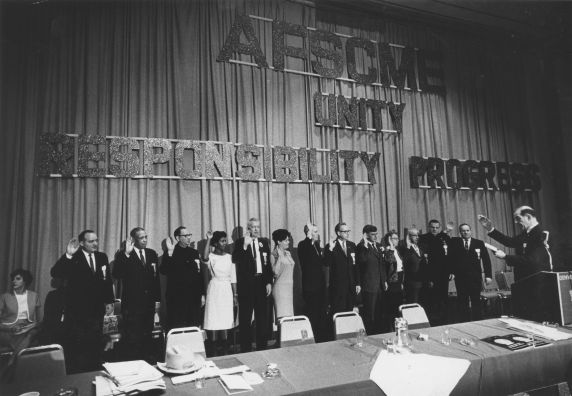 Fifty-five years ago, the American Federation of State, County and Municipal Employees elected a new president who would dramatically change the trajectory of the union.
A founding member of the Wisconsin Service Employees Association in 1932, Arnold Zander took the lead in forming the national public employee union that would become AFSCME. At AFSCME's first national convention in 1935, members elected Zander as their president. AFSCME received its AFL charter the following year. Zander was re-elected without serious competition for 26 years.
Zander hired Jerry Wurf in 1947. Before long, Wurf was running New York City's District Council 37. The two men worked closely together and Wurf considered Zander a mentor. But over time, Wurf took issue with some of Zander's actions and policies. The executive office held the vast majority of power, remained insular, and supported initiatives like housing developments, which fell outside the traditional scope of labor unions. Many others within AFSCME began to feel it was time for a change.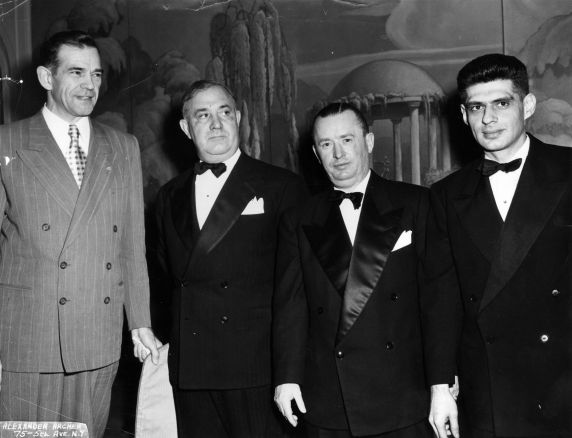 Zander, left, and Wurf, far right, at an event in 1950
Zander became aware of those sentiments and referred to them as a "vicious attack by evil" in his column in AFSCME's Public Employee magazine. Soon, his dissenters became more organized. They began referring to themselves as "F. O. E." or Forces of Evil. Wurf, Al Bilik, Rev. Albert Blatz, Victor Gotbaum, Joe Ames, Bob Hastings, and Norm Schut were among the original members. By 1961 they had established a reform caucus within AFSCME called the Committee on Union Responsibility, or COUR.
COUR put forth Jerry Wurf as a candidate for president at the 1962 AFSCME Convention. Though his loss was not a surprise, the incredibly close margin was. COUR pressed on, holding conferences in 1963. At these meetings, members of the caucus drafted a package of proposed resolutions and constitutional amendments for the 1964 convention that would correct the power imbalances within the union.
COUR again supported Wurf as a candidate; this time his running mate was Gordon Chapman, who had been Secretary-Treasurer on and off since 1937. Their slate included candidates for executive board Harry Gray, Lillian Roberts, Jim Broyer and several others.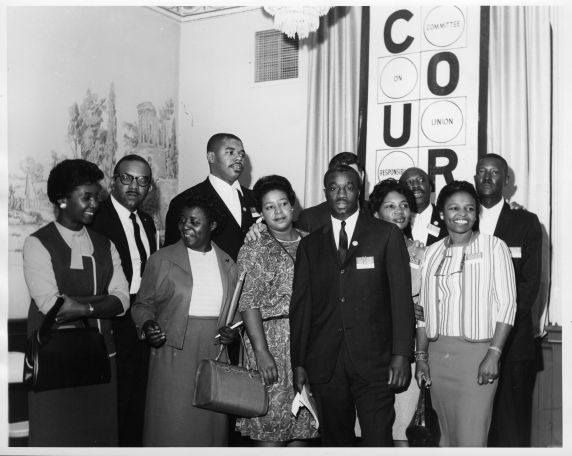 COUR members at a meeting in 1963. At left is Lillian Roberts, who would be a candidate for AFSCME's executive board
The Convention was rowdy at times as delegates proudly supported their preferred candidates with banners and buttons, distributed leaflets, and debated on the convention floor. An outside agency monitored the election and members of the press were on hand to witness. The process dragged out in dramatic fashion due in part to the necessity of a recount. Just 21 votes separated Jerry Wurf and Arnold Zander. The results were Wurf: 1,450 and Zander: 1,429. Chapman and ten COUR-endorsed candidates for the executive board also won.
Speaking to the Convention after the results were announced, Wurf said of Zander, "You will forgive me if I say in a somewhat emotional way that he and I were as close as two people could be. We disagreed, and perhaps the closeness of our previous relationship made the disagreement that much harder. But let me say to you that the history of public employee unionism owes much to his foresight, his wisdom, and his judgment."
During a constitutional convention the following year, AFSCME took on many of the reforms from the COUR platform. Under Wurf's leadership, AFSCME fought battles for civil rights and pay equity, dealt with public employee backlash and tax revolts, and grew membership to over one million.
Many more stories from this time are worth a look in the collections. The firing and rehiring of Lillian Roberts, charges filed against Victor Gotbaum, the involvement of Zander's executive assistant Leo Kramer, heated debates at the 1958, 1960, and 1962 conventions, and Zander's running mate William McEntee and his son Gerald McEntee who would become president upon Wurf's death in 1981. Find them in the following collections: AFSCME Office of the President: Jerry Wurf Records, AFSCME Office of the President: Arnold Zander records, Al Bilik Papers, Leo Kramer Papers, AFSCME Office of the Secretary-Treasurer: Gordon Chapman/ Joseph Ames Records, AFSCME Publications, AFSCME Communications Department Records, Joseph Goulden Papers, as well as oral histories with individuals involved. Contact the AFSCME Archivist for assistance.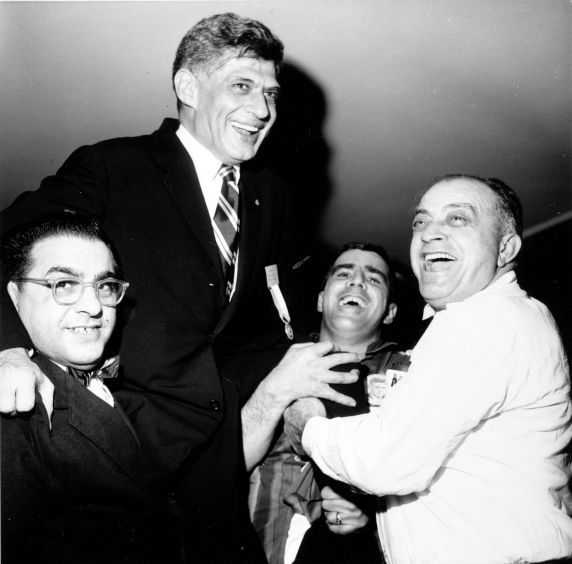 Stefanie Caloia is the Archivist for the American Federation of State, County and Municipal Employees.