Judge Damon J. Keith Passes at 96 Years of Age
Posted May 9th, 2019 by ljones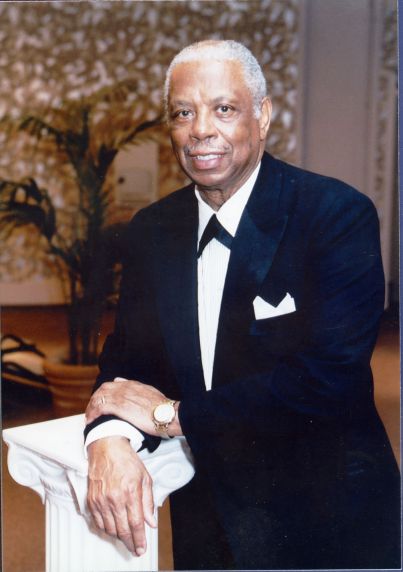 The Reuther Library mourns the passing of Judge Damon Jerome Keith who made his transition April 28, 2019. A Detroit native and the grandson of enslaved Africans, Judge Keith lived during a number of pivotal moments in American and world history. Forced to endure and negotiate the confines of a world that too often worked against the interests and advancement of African Americans, he succeeded in life while making enduring contributions to its betterment. Many of these contributions came from his work as a federal judge for the Eastern District of Michigan (1967-1977) and later as a federal judge for the 6th Circuit Court of Appeals (1977-2019) where he gained senior status in 1995. His family will hold a public visitation at the Charles Wright Museum of African American History on Saturday, May 11 from 8:00am until 8:00pm. His funeral service will be held Monday, May 13 at Detroit's Hartford Memorial Baptist Church at 10:00am.
Judge Keith had a close and longstanding relationship with Wayne State University, extending back to 1956 when he received his masters in law from this institution. For many decades, in fact, he would swear in the presidents of Wayne State University, including David Adamany, Irvin Reid, Allan Gilmour and, most recently, M. Roy Wilson. Most importantly, Wayne State is home to the Damon J. Keith Center for Civil Rights, which opened its doors in 2011. With a mission "to promote the educational, economic and political power of underrepresented communities in urban settings," the Keith center seeks to train the next generation of civil rights lawyers to take on structural racism and engage the Detroit community through workshops, panel discussions and other public programs.
Before a Keith Center was conceived, however, there was a Damon J. Keith Collection of African American History, also based at Wayne State University. The Keith Collection came into being when Wayne State University Professor Edward Littlejohn, approached Judge Keith with the idea to create a repository of collections documenting the important work of Black lawyers and judges fighting for equality. Professor Littlejohn's extensive research on the subject led him to realize that no repository actively collected material documenting this work. The Walter P. Reuther Library agreed to become that repository and, in 1994, the Damon J. Keith Collection of African American Legal History was born.
The Keith Collection, which is now a joint effort between the Walter P. Reuther Library and the Keith Center, comprise the papers of a number of people associated with civil rights activism in Detroit and beyond, including, but not limited to:
• Damon J. Keith
• Ken and Sheila Cockrel
• Ernie Goodman
• George Crockett, Jr.
• William Bledsoe
• Hugh Davis
• Dalton Roberson
The papers of Judge Keith represent the cornerstone of the Damon J. Keith Collection of African American Legal History. As such, it houses papers associated with many of his landmark court cases, speeches, honorary doctorates, and reports, as well as his work for various civic, cultural, educational and professional associations, amongst other material.
Judge Keith's judicial rulings against school segregation in Pontiac, MI and warrantless wiretapping are among some of the more prominent cases on which he ruled. There were, however, others. Citing practices of discrimination, Keith's rulings led to the desegregation of the Detroit police department and similarly forced an affirmative action plan on Detroit Edison Company when it was determined that the company actively discriminated against African Americans seeking employment there. Another decision resulted in the restitution for Black residents of Hamtramck, MI who had been forced to move from their homes due to an urban renewal project that Judge Keith ruled discriminated against them due to race. Another one of his more recent and prescient rulings put an end to the practice of conducting immigration hearings away from public purview, leading Judge Keith to rule that, in part, "democracies die behind closed doors." Many of these cases and others are documented in the papers of Damon J. Keith located at the Walter P. Reuther Library. The warrantless wiretapping case is also documented in the papers of Hugh Davis, also located at the Reuther Library. Attorney Davis represented the defendants in that case.
Married for 53 years to the physician Rachel Boone Keith before she passed in 2007, Judge Keith leaves daughters Cecile Keith Brown (Daryle), Debbie Keith, and Gilda Keith, as well as grandchildren Nia Keith Brown and Camara Keith Brown and a host of relatives, friends and colleagues.