Judge Damon J. Keith: Summer GSA Project
Posted August 22nd, 2019 by Public Relation...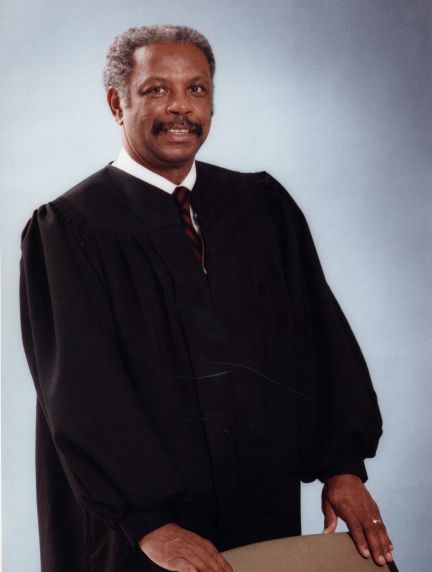 As a graduate student assistant from the School of Information Science, I had a unique opportunity this summer to work on an archival project in the Walter P. Reuther Library. Although my primary professional interest has been working as a librarian once I graduate, I have often wondered about the work of an archivist and some of the things that go on within the Reuther on a day-to-day basis. My task this summer was to create a lesson plan on a subject of my choosing for the Archives and Primary Resources Lab (APREL). After much consideration I decided to focus my project on Judge Damon J. Keith. I wanted my topic to be relevant yet timeless, and of great importance to communities across metro-Detroit.
I was embarrassed to say going into this assignment I knew very little about the judge. I knew of his recent passing and that he was an important figure at WSU and within the American legal system, but I had no idea how far his accomplishments and impact would span. One of the many benefits of creating a lesson plan about Damon Keith was the amount of information available to me through the Reuther's Damon J. Keith papers and elsewhere at Wayne State.
The Damon J. Keith papers house a plethora of documents, photos, and videos that tell many stories about Keith's life and work. His monumental cases, important speeches, impressive awards, and even some family keepsakes are kept within this collection. These items were all instrumental in my research and preparation when creating the lesson plan. My aim was to educate middle school students on the legacy and social impact of an important historical figure; I also wanted to help students to be aware of their own power when creating their future legacies. I hope this lesson will leave them with the idea that they too could have a great impact on society and the people around them.
Working with Meghan Courtney and Kristen Chinery over the past few months has opened my eyes to the intricate and important work of archivists in preserving and safeguarding our history in a number of capacities. I am grateful for my time working on the APREL project and getting to know the great archivists working at the Reuther. I would recommend community members, scholars, teachers, students, and parents schedule time to learn about the things available to them through this library. One would be surprised at the type of learning and discovery that happens when you look at primary sources that have been intentionally preserved as piece of history.
Lastly, I hope you enjoy my learning resource on the amazing Judge Damon J. Keith! I compiled only a small fraction of what the Reuther has to offer about this notable figure. I hope you explore more!
This guest was authored by Ashley Jackson, a Graduate Student Assistant in Wayne State's School of Information Science during the summer of 2019.