Exhibit Announcement: Women of the I.W.W.
Posted September 26th, 2019 by eclemens
in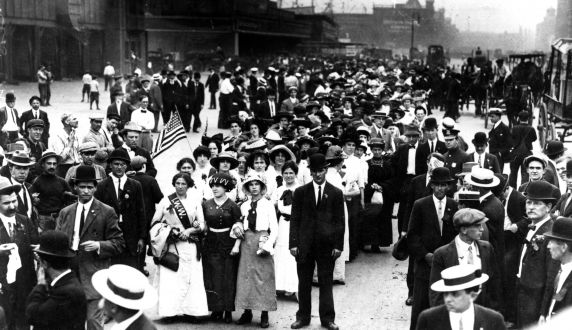 The Reuther Library is pleased to announce the opening of a new exhibit in our Leonard Woodcock Gallery: Women of the Industrial Workers of the World. The exhibit celebrates the militant revolutionaries, "rebel girls," writers, orators, and agitators who fought for economic and social justice for the working class throughout the first half of the twentieth century.
The exhibit features photographs of prominent women who were affiliated with the Union, as well as the "broomstick brigades" of female non-members who held the pickets, challenged anti-union authorities, and provided support to the various actions, such as strikes, free-speech fights, and demonstrations to release political prisoners. It opened to coincide with a visit from artist Robbin Légère Henderson, whose exhibit Immigrant Girl, Radical Woman is on display in our atrium until the end of November. These two exhibits allow patrons to explore the rich history of Women in the I.W.W. through the original writings of I.W.W. organizer Matilda Robbins, artwork, and historical photographs.
Our exhibit galleries are open to the public during business hours, Monday – Friday, 9:00 a.m. - 4:45 p.m. For more information for the exhibits, or to look at other materials related to the history of the Industrial Workers of the World, please contact reutherreference@wayne.edu or the Audiovisual Department at reutherav@wayne.edu.