Guest Post: Processing with Karen Turk, Raven Awardee
Posted February 12th, 2020 by Public Relation...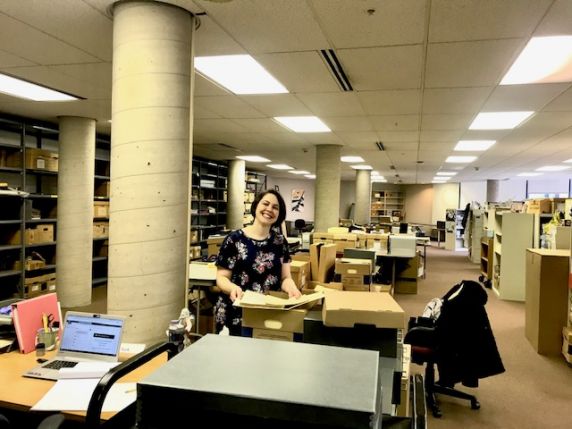 From the minutiae of removing rusted metal fasteners to discussing the legalities of redacting personally identifiable information, I have already put a year's worth of Archival Administration theory into practice as a Ronald Raven Awardee. The internship, coupled with the Archival Administration Graduate Certificate Program in general, has afforded me opportunities for personal and professional growth that I did not anticipate as a nontraditional student. I could not ask for a more supportive, inspiring environment than the Walter P. Reuther Library in which to learn skills like imposing arrangement, creating DACS-compliant description, and using EAD to produce an accessible finding aid.
University Archivist Alison Stankrauff has been both a mentor and a teacher during the last six weeks as she guided my processing of the Corrine Gilb Papers. When Stankrauff presented me with a list of collections to choose from, she explained that the creators were women with ties to Wayne State University. Including the stories of underrepresented groups is important to Stankrauff. As I processed the Gilb Papers, a nuanced portrait emerged of a woman who achieved the status of Professor Emeritus and served as Planning Director for the city of Detroit. Through archives, her story can be told.
The Corrine Gilb Papers document Gilb's career from 1970 to 1994. During this time, she served as a Wayne State University history professor and Co-Director of the Liberal Arts and Urban Studies program. Correspondence and reports related to her work at WSU are housed in Series 1, Wayne State University and Detroit Committee Papers. Gilb's participation from 1978 to 1979 on two search committees, one to hire a Vice Provost and the other to confer the David Safran Award to outstanding student leaders, is also evidenced here.
Series 2, Planning Reports is arranged chronologically from 1980 to 1985. Gilb's appointment as the City of Detroit's Planning Director was from 1979 to 1985. Working under Mayor Coleman Young, Gilb created a Master Plan for the city in 1985. This three-volume work is included among the other planning reports in Series 2.
The decision to return to school twelve years after completing my MLIS was difficult, but the choice to attend Wayne State University was easy. The School of Information Sciences offers unparalleled opportunities for its students to gain hands-on experience. The Ronald Raven Annual Award has given me the chance to develop my skills as an archivist and build lasting relationships with a team of professionals I might not have otherwise met. I am so grateful to have been chosen for this award.