Meet Our New Director, Aliqae Geraci
Posted March 25th, 2020 by teller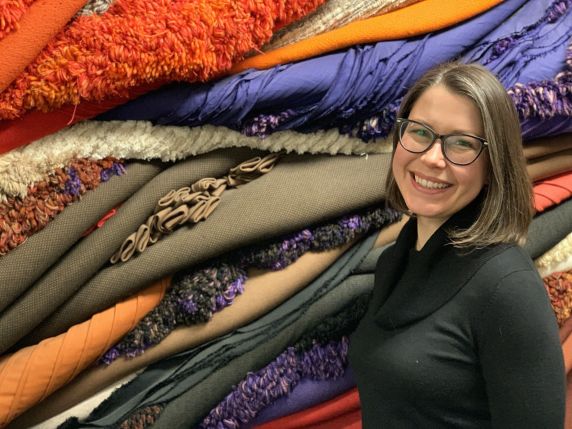 We are excited to announce that Aliqae Geraci has taken the helm as the new director of the Walter P. Reuther Library at Wayne State University, a position she relishes because of the, "Strength and breadth of its labor union and organizational collections, the expertise and experience of Reuther staff, and Reuther's place within a major research library system and urban research university."
Geraci is no stranger to the world of labor libraries and archives. She comes to the Reuther from Cornell University's Martin P. Catherwood Library in Ithaca, New York, where she worked for eight years in successive roles including research librarian, labor research team coordinator, and assistant director overseeing access services and research and learning services. Her earlier positions included working as a reference associate at the Tamiment Library and Robert F. Wagner Labor Archives at New York University, as a librarian at Queens Public Library in New York City, and as a union research analyst for AFSCME District Council 37.
Geraci is active in the American Library Association, serving on committees related to labor, employment, and human resources. As a certified salary negotiation trainer, she designs and leads panels and workshops library and archives workers. She has been deeply involved in the United Association of Labor Education's regional summer schools for women in the labor movement, and has served as instructor and staff for the Northeast summer school since 2013.
She received a BA in Economics and Labor Studies from the State University of New York's Empire State College, an MS in Library and Information Science from Long Island University, and an MA in Labor Studies from the City University of New York's Murphy Institute of Worker Education and Labor Studies (now the CUNY School of Labor and Urban Studies).
Although Geraci began her position in challenging times and has not yet moved into her Reuther Library office due to the COVID-19 pandemic, she is looking "forward to working with Reuther staff, the WSU library system, and collections stakeholders to facilitate and expand access to Reuther's world-class collections." In the meantime, when not leading the Reuther in a virtual environment, as a new resident of Detroit Geraci has been exploring the different neighborhoods, parks, and waterfront with her husband and dog, a 5 year old basenji-pitbull mix named Lucy.