Guest Post: The John C. Leggett Papers
Posted April 9th, 2020 by Public Relation...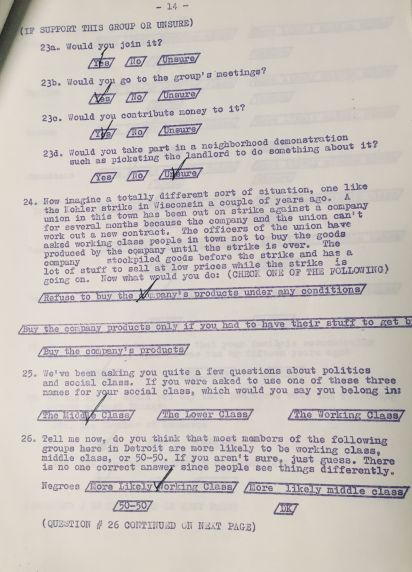 The John C. Leggett Papers, a collection illuminating the class and race struggles of 1960s Detroit, is now available for research. Leggett, a sociologist and academic, focused his studies on the impacts of labor and race on society. The collection, spanning from 1955-1960, contains academic writings and research related to those studies.
The bulk of the collection consists of surveys conducted by Leggett and a team of researchers in Detroit in 1960. Leggett established strict criteria for the surveys; each survey contains a list of income levels, occupations, and ethnic backgrounds that participants had to meet before surveys could be completed. More than 400 surveys were completed and are included in the collection, along with several partially completed surveys and notes related to the study. The surveys served as the basis for Leggett's 1968 book, Class, Race, and Labor: Working-Class Consciousness in Detroit.
The surveys offer a snapshot of midcentury Detroit as seen through the eyes of its working-class residents. Survey questions covered a variety of topics, including employment, income, union affiliations, and opinions on politics, the class divide, other races/ethnicities, and the City of Detroit. The interviews were open-ended, and many participants offered detailed responses to survey questions.
While processing the collection, I was struck by the way survey questions were framed, particularly the questions related to race/ethnicity. Participants were asked to rank how much they agree with groups like the National Association for the Advancement of Colored People and the Ku Klux Klan. They were asked if Germans should be allowed to live in Detroit, or if they would ever invite a Canadian to dinner. The responses offer fascinating insight into working-class citizens of the time, detailing how they perceived themselves and others in society. This information-rich collection could be of use to researchers interested in Detroit history, labor unions, and sociology.
This post was written by Jared Quist, Graduate Student Assistant in the Wayne State University School of Information Science during the 2019-2020 academic year.