Detroit Revolutionary Movements Records now available online
Posted September 7th, 2020 by mcourtney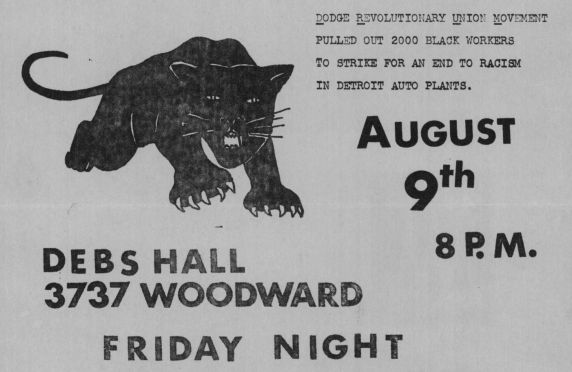 The Walter P. Reuther Library, Archives of Labor and Urban Affairs is proud to announce that the Detroit Revolutionary Movements (DRM) Records are now freely available online.
These materials offer firsthand information about the demands, political viewpoints and allies of Black workers during the late 1960s and early 1970s. The records are especially relevant today as evidence of community-based activism that is formative to today's social and political movements.
For decades, the collection has been popular with researchers for its intimate look into the League of Revolutionary Black Workers (LRBW), a federation of radical, grassroots groups of Black autoworkers across plants in Southeastern Michigan. The LRBW formed in 1969 as Black workers, inspired by the 1968 wildcat strike of the Dodge Revolutionary Union Movement (DRUM) at the Dodge Main plant, joined together to fight systemic racism in organized labor — particularly in the UAW, which represented the plants where the League organized. Workers spread their movement through flyers and provocative newsletters, many of which are available in the collection.
David Goldberg, associate professor of African American studies at Wayne State University, explains, "The Detroit Revolutionary Movements Collection at the Walter Reuther Archive is an invaluable resource for anyone interested in American labor, urban and social movement history. Centered on the collections of General Baker and Ron Glotta, the records — including critically important documents — are especially useful to those who study the Black Power movement, the New Left, Black Marxism, labor and labor law, and revolutionary organizational activity during the late 1960s and 1970s."
In addition to the full collection, the Reuther offers a curated set of documents aimed at helping students consider the views and work of the LRBW.
Archivists at the Reuther Library spent years developing this project, holding discussions with the materials' donors, scanning documents for preservation, ensuring privacy measures and incorporating the collection into an online interface. Reuther Library is hopeful that increased access to this collection will inspire students, community members and researchers to further investigate the important role of DRM in Detroit and in American society.