Judge Avern L. Cohn Papers open for research
Posted March 29th, 2021 by aergas
in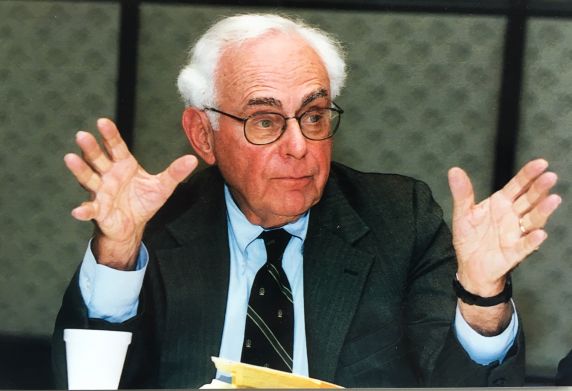 The Reuther Library is pleased to announce the opening of the Avern L. Cohn Papers, now accessible to researchers and the public. The materials in this collection represent the scope of Judge Avern Cohn's professional life and his wide-ranging interests and activities, from history to family matters and philanthropy to leisure travel. The papers include correspondence, opinions and orders, speeches and writings, scrapbooks, files on a large array of topics and some audio-visual materials.
Avern Levin Cohn was born in Detroit in 1924 and served in the U.S. Army during WWII. He was nominated by President Jimmy Carter to the United States District Court for the Eastern District of Michigan on May 17, 1979, and was confirmed on September 25, 1979. He took senior status as a judge on October 9, 1999, and retired from the bench in 2019.
In his several decades on the federal bench, Cohn was involved in cases on a variety of issues including tax law, civil rights, school desegregation, and patents and trademarks. Among his most notable decisions are John Doe v. University of Michigan, which held unconstitutional the university's speech code; the Kearns patent infringement suit against Ford Motor Company regarding intermittent windshield wipers; the "Jake Baker Case," which involved a student dismissed from the University of Michigan for allegedly putting a pornographic story on the internet; and Bradley v. Milliken, regarding school desegregation. Cohn was a prolific writer of professional articles, as well as opinion pieces and letters to the editor; his research materials and writings are included in his papers. He was a frequent participant in and speaker at meetings for the legal profession and many other professional groups. His interest in legal education is evidenced in materials reflecting his participation in moot courts, new lawyer seminars and student forums at various law schools including the University of Michigan, Wayne State University and the Detroit College of Law.
Judge Cohn was a member of several bar associations and legal organizations, serving on and chairing many boards and special committees. He also served on several state-wide and Detroit civic organizations, including the Michigan Civil Rights Commission and the Detroit Board of Police Commissioners.
Cohn's papers include wide-ranging correspondence on the local, national and international level with lawyers and judges; politicians and government officials; journalists and publishers; business leaders; religious leaders; and academics. Active participation and leadership in the Jewish community of Detroit is reflected in the papers, as he served in numerous organizations, notably as president of the Jewish Welfare Federation, wrote extensively on Jewish history subjects and was awarded some of the highest honors for service to the Jewish community. Scrapbooks included in the collection were collected and arranged by Judge Cohn and his staff. They provide an overview of his public life from the 1960s through approximately 2014.
The Avern L. Cohn Papers will provide an important contribution to the history of courts and the legal profession, as well as to the history of Michigan and Detroit.