The Evolution of Michigan Avenue
Posted May 27th, 2021 by Public Relation...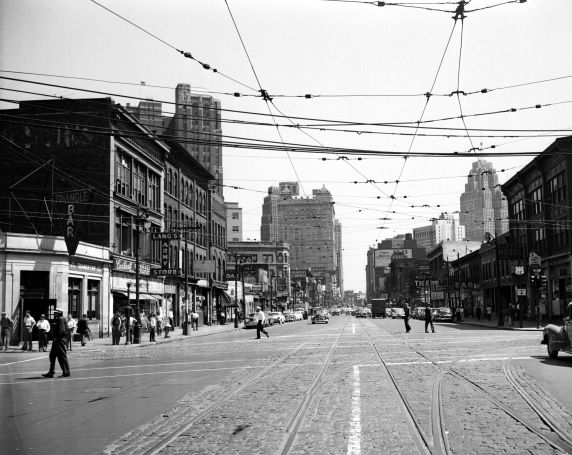 A Detroit without cars is hard to imagine, but like any city predating the automobile, the streets weren't initially designed for a driving culture. Carved first by foot and then by wooden wheel, the landscape had to be adapted to new demands brought by cars. A visual evolution of Michigan Avenue can be traced in the Reuther's Virtual Motor City, a collection of Detroit News photographs spanning 1860-1980.
By the mid 1920s, just two decades after the first Ford automobile rolled off the assembly line, Ford, General Motors, and Chrysler all called Detroit home and the industrial hub had already earned its moniker of the Motor City. The city also earned a more local reputation for traffic congestion as it outgrew its pre-automobile roadways. At just 66 feet wide, Michigan Avenue became cramped with a growing number of workers and drivers descending on the city.
Before it was known as Michigan Avenue or US Highway 12, the stretch was a footpath traversed by Michigan's indigenous people. Later, the path was reconceived and developed as a connector between two midwestern metropolises, Detroit and Chicago. Rumblings of a widening project started as early as the 1910s, and by 1924, plans were underway to alleviate the congestion by nearly doubling the street's width to 120 feet.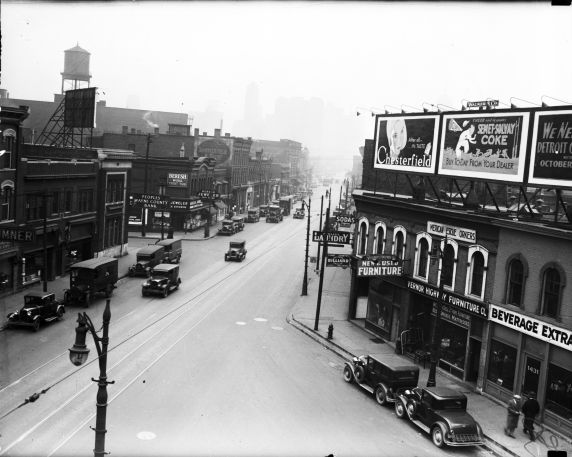 The project focused on the Corktown stretch, and several other major streets were also widened. The photo at left shows the street as it appeared pre-widening in 1930.
To make room for more traffic lanes, structures on one side of the street would have to be razed. Razing the south side was deemed more cost-effective, so only the north side retained any structures predating the widening project. After years of planning and negotiations, demolition and construction began in 1938 and the newly expanded street was paved by 1940. The project drastically altered the landscape of Detroit, with many believing the city's walkability was sacrificed for its drivability.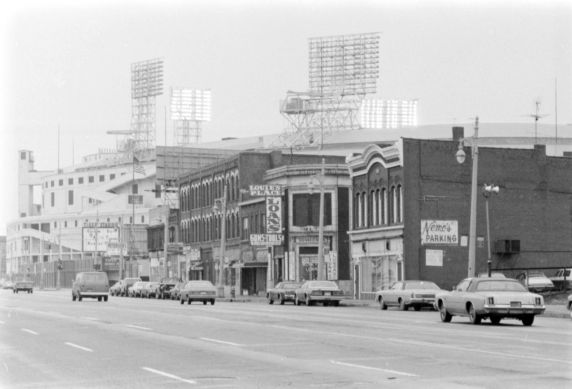 Although the Michigan Avenue widening wasn't pitched as an urban renewal project, it has been the target of criticism for its failure to improve urban living as promised. Most famously, Jane Jacobs argued in The Death and Life of Great American Cities that wide sidewalks are more important to a city than wide roadways, and that buildings of mixed age benefit cities economically. Two decades after the widening was completed, a true urban renewal project aimed at Detroit's own Skid Row wiped out additional nineteenth-century structures along Michigan Avenue, further reshaping Detroit's skyline.
By the 1950s, the area surrounding Michigan Avenue from Fifth Avenue to Cass Avenue was known as "Skid Row" due to the proliferation of bars, pawn shops, all-night theaters, payday loan establishments, and discount stores. Citizens and politicians began to voice concerns about the area, which they perceived as a hotbed for homelessness, crime, and alcoholism. A 1952 Saturday Evening Post article called Detroit's Skid Row "a national embarrassment" and dehumanized the area's inhabitants by referring to them as "living discards" and "human junk heaps." The Reuther Library's Tony Spina Collection contains additional images of Skid Row; Spina, a Detroit photojournalist, spent ten days living on Skid Row for an exposé in the Free Press. Social services organizations, including the Salvation Army, Volunteers of America, and several "mission houses," provided housing, food, clothing, and other services for residents.
Detroit's Central Business District Redevelopment urban renewal project was approved for federally-assisted funds in 1959, resulting in the demolishing of Skid Row in 1962 and 1963. The Reuther Library's Carl Almblad papers contain development plans and additional project documents surrounding the Central Business District urban renewal project. Jerome Cavanagh served as Detroit's mayor from 1962 to 1970, and the Reuther's collection of his papers contains additional information about urban development in the Michigan Avenue corridor.
The vision for the site included a revitalized commercial district centered around an "International Village" complex containing hotels, restaurants, and stores. However, the project struggled to gain funding and agreement on a development plan and never came to fruition. Although some structures were eventually built on the vacant lots left by the demolition, several historic buildings were lost and the area never regained its walkability. Many of the activities and people who inhabited Skid Row moved a short distance to Detroit's Cass Corridor. Within a few years after its completion, the Detroit Skid Row urban renewal project was largely viewed as a failure.
In addition to the evolution of Michigan Avenue and other changing street views, the Reuther's Virtual Motor City collection includes photographs of significant people, places, and events, inviting users to follow the city through 120 years of its history as seen through the lens of its own press.
Authored by Kirsten Cessna and Leah Minadeo, students in the Wayne State School of Information Science Audio Visual Archives in Winter 2021.