Michael Kerwin Papers Now Open
Posted August 5th, 2021 by srafferty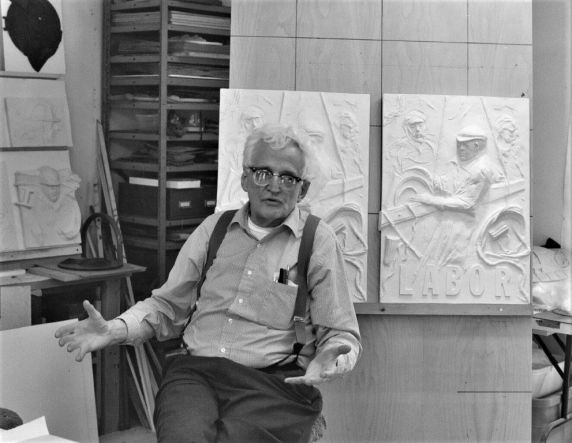 Michael W. Kerwin passed away on July 19, 2021 at the age of 97. A portion of his archival papers are now available for research.
Kerwin was well-known and respected for his activism and long-term involvement in labor, democratic politics, and Irish communities of Detroit. His involvement with the UAW began when he moved to Detroit in 1950 and started a position working at American Metal Products Co. and became a member of the local Education Committee. His interest of participating on the Education Committee lead to a job with the UAW Education Department, where he worked for almost 30 years.
His position in the UAW, along with his own interests, led Kerwin to a number of Detroit and Michigan area progressive groups such as Save Our Schools and the 15th District Democrats. Kerwin worked for many decades as a dedicated volunteer and precinct delegate for elections. He served as the Detroit Deputy City Clerk from 1974-1982 and the honor of serving as the 14th Congressional District delegate for the Michigan Electoral College in the 2020 Presidential Election.
Kerwin always considered the future and was passionate about sharing labor history with new generations. He helped found the Michigan Labor History Society (MLHS) in the mid-1970s and served on the Board of Directors as well as the Chair of the Program Committee for many years. Under his leadership, the MLHS installed 'Transcending,' a sculpture and monument located in Hart Plaza and dedicated to Michigan's labor legacy. Kerwin also worked to share the Reuther's resources with the public, including offering talks on our Reading Room mural to the public during union family days.
Throughout his life, Kerwin considered the needs of future researchers and gathered evidence of his interests, political involvement, and work with the UAW. In recent years he donated these materials to the Reuther. In order to provide researchers with access to the collection as soon as possible, a portion of the Michael W. Kerwin Papers are now open. Additional parts of the collection will be opened as they are processed. We hope these records will continue to educate just as Mike did during his long life.