In memoriam: Denise Szykula
Posted October 6th, 2021 by aergas
in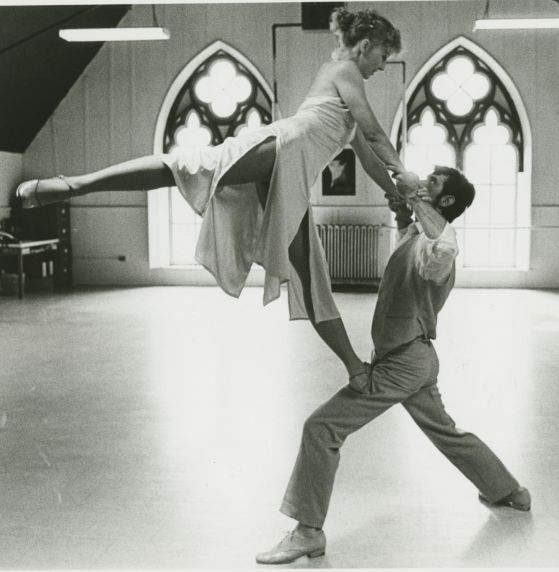 The Michigan Dance Archives (MDA) at the Reuther Library notes with sadness the passing of Denise Szykula, whose papers became part of the MDA in 2018.
Denise Szykula won praise over many decades for her work as a dancer, choreographer, teacher and innovator. Born in Hamtramck, Michigan, in 1946, she established her dance career in Southeast Michigan and was a long-time resident of Eastpointe. Szykula founded Dance Nonce Ensemble in 1973 (later renamed Dance Nonce) and served as its artistic director and choreographer for over 45 years. A professional modern dance company located in Southeast Michigan, Dance Nonce gained a reputation for innovative and original work.
Szykula also taught dance in many schools and community organizations over the years and collaborated with musicians and artists around Michigan. Her close collaboration with dancer-choreographer Harriet Berg, especially in dance groups at the Jewish Community Center, is documented in the Michigan Dance Archives: Harriet Berg Papers at the Reuther. Szykula's work was supported frequently with grants from arts organizations. In 2004, she received the Touchstone Award as Michigan Dance Teacher of the Year from the Michigan Dance Council.
Szykula's papers at the Reuther include choreographic notes and notations from many of her works dating from 1979 to 2015, as well as notebooks of lesson plans, programs, correspondence, photographs and posters. The Reuther's AV Department holds slides, videos and DVDs of her dance performances.
To continue Szykula's legacy after her death in June 2020, the Eastpointe community raised funds in her memory to refurbish the floor of its historic Halfway Schoolhouse, which is listed on the National Register of Historic Places. The schoolhouse has provided space for dance instruction and many other activities for generations, and Szykula, who taught dance classes there, was aware that the building's floor was at the end of its useful life, posing a threat to dancers and anyone else using the facility. Her friends, students and admirers held "A Celebration of Life" at the schoolhouse on October 2, 2021, to reveal the new floor and remember Denise Szykula's life as a dancer, choreography, innovator and active community member.