In Memoriam: Adam Shakoor (1947-2022)
Posted April 12th, 2022 by ljones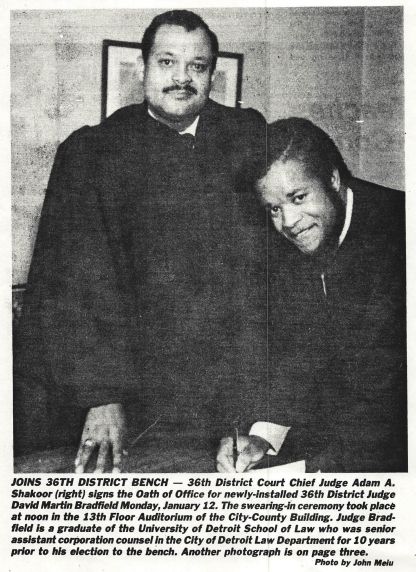 The Reuther Library is sorry to report the passing of Adam Shakoor, a former Chief Judge to the 36th District Court who had also served Detroit's Deputy Mayor under the Coleman Young. He was in private practice as a lawyer during other parts of his professional life. He was 74 when he passed on March 20.
For those interested in studying Shakoor's life and work in public service, the Reuther Library maintains his papers, which cover the period 1981-1993.
Adam was born to Harvey and Esther Cadell in Detroit in 1947. His father was a union leader and mother worked as a teacher at Durfee Junior High School. While attending Wayne State University Adam converted to Islam and changed his last name to Shakoor. Shakoor graduated from Wayne State with a Bachelor of Science in 1971, a Master's in Education in 1974, and a JD from Wayne State University Law School. After graduating law school, Shakoor practiced at Pitts Mann & Patrick PC before becoming a partner at Ashford Cannon Edison Lumumba & Shakoor from 1979-1981.
The Adam Shakoor Papers document his career as the Chief Judge to the 36th District Court (1986-1989) and as Deputy Mayor of Detroit. His work as a judge included many administrative and policy decisions regarding the operation of the court, inter-office correspondence, security information, as well as docket and case management. In 1989, Shakoor left his position as Chief Judge to begin work as the Deputy Mayor and Chief Administrative Officer of Detroit (1989-1993). In this position, Shakoor focused on reducing substance abuse, crime and violence. He also collaborated with City of Detroit department and division leaders to try and solve various issues facing the city of Detroit. Shakoor returned to practicing law, ending his career at Adam Shakoor & Associates PC (2004-2022), and teaching at Wayne County Community College District.
Shakoor's papers are part of the Walter P. Reuther Library's Damon J. Keith Law Collection of African American Legal History in partnership with the WSU Law School and the Damon J. Keith Center of Civil Rights. Shakoor was honored to have his papers connected with those of Damon Keith who he greatly admired.
This post draws heavily on the Shakoor Papers Biographical Note authored by LUAC Archivist Shae Rafferty.