New dance collection open: Cecchetti Council of America Records
Posted June 13th, 2022 by aergas
in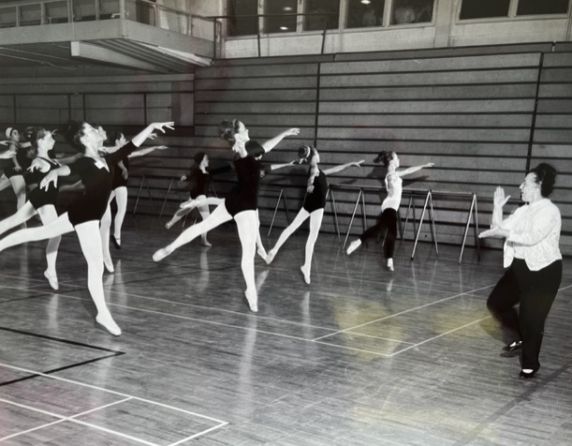 The newest addition to the Michigan Dance Archives is now open to researchers: Cecchetti Council of America Records. The CCA is a membership-based dance education organization, established in 1939, dedicated to maintaining the standards and methods of ballet training established by Cavalier Enrico Cecchetti (1850-1928). Read more The CCA provides a system of accredited examinations to assess the knowledge, proficiency and quality of teacher and student candidates, with the purpose of raising the standard of ballet teaching throughout the United States. Cecchetti developed his rigorous method of training ballet dancers from his experience as a dancer, mime and teacher in Russia, England and Italy in the late 19th and early 20th centuries. The Cecchetti Society, formed in 1922, promoted the teaching system internationally, and it was adopted by many of the most respected dance teachers and dance companies in the world.
In the 1930s, members of the Dancing Masters of Michigan (later Dance Masters of Michigan) began searching for an organized way to teach ballet and discovered the Cecchetti Method. They studied the method and taught it throughout the U.S. in classes and workshops, developing a network of teachers and CCA branches (called Committees) across the country. The Cecchetti Council of America became a legal non-profit educational organization based in Michigan, under the Michigan State Board of Education, in 1951. By the 1990s, there were more than 19 Committees across the U.S., as well as in Canada and the Caribbean.
The CCA began holding its annual seminars at the former Park Shelton Hotel in Detroit in 1954. It moved to Michigan State University in 1965 and then to the School of Cleveland Ballet in 1985. Since 1988, the seminars have been held at Hope College in Holland, Michigan, where they continue, as of 2022, to attract students and teachers from throughout the U.S. and from other countries. The CCA is run by a National Executive Board of Directors (NEBD), with examinations overseen by the Board of Examiners (BOE), with offices based in Flat Rock, MI. The NEBD oversees teacher training and syllabi, organizes classes and seminars, and provides liaison with the regional Committees.
The records in this collection reflect that work on a national level, with correspondence, administrative documents, NEBD minutes and records, and historical documents. The work of the various Committees around the country is also reflected in administrative documents and meeting minutes, as well as records of events and performances. The collection also includes some photographs, posters and books, as well audio-visual materials such as videotapes, film reels, vinyl records, and DVD/CDs. The CCA Records were donated to the Reuther Library in 2021 by Kathleen C. Tenniswood, who became president of the CCA in 2020, and by other officers and members of the CCA. The records reflect the wide-ranging importance and influence of the Cecchetti Method of teaching and of the CCA nationally and internationally.