Reuther Library content used in new documentary
Posted October 19th, 2010 by mwallace
in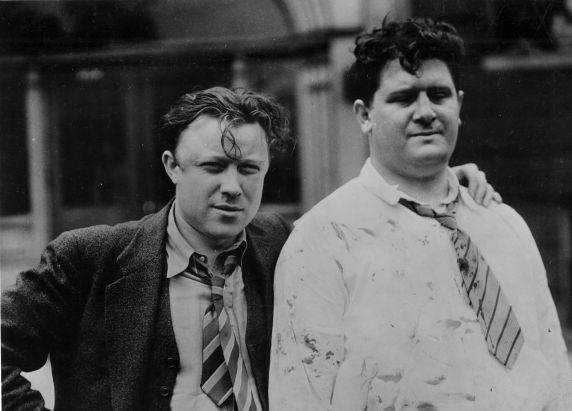 Walter Reuther and Richard Frankensteen shortly after being attacked by Ford Service men during the "Battle of the Overpass." The men were beaten for distributing United Auto Workers leaflets outside of the Ford Rouge Plant, Dearborn, Michigan, 23 May 1937.
The 2010 North American Labor History Conference will top off this year's event with a viewing of the latest cut of the new documentary Brothers on the Line on Saturday, October 23 at 11:00 AM.
The documentary, which relies heavily on the collections of the Walter P. Reuther Library, looks at the lives of the Reuther Brothers, Walter, Victor, and Roy, and their struggles to organize the United Auto Workers and make it into more than just a labor union but also a force for social justice.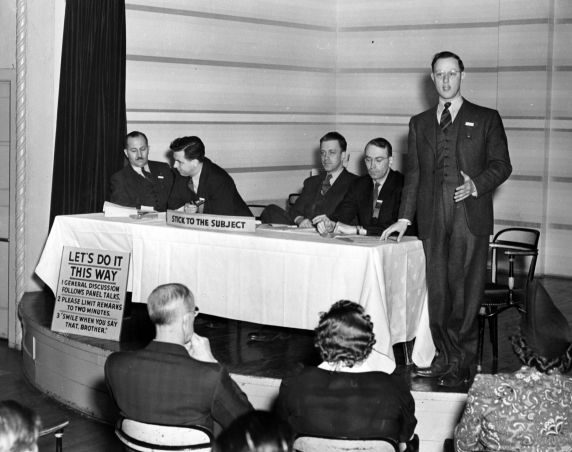 Victor Reuther addresses the audience at a UAW War Policy meeting, location unknown, 1941.
Brothers on the Line is the first full-length film for writer, producer, director Sasha Reuther. Reuther is the grandson of Victor Reuther so he brings a unique family perspective to the project.
Since the Reuther Library is the repository for the archives of the United Auto Workers, Sasha Reuther spent countless hours in the Library's reading room and audiovisual department. He searched through dozens of archival collections, hours of film and video footage, and sheet after sheet of still photographs.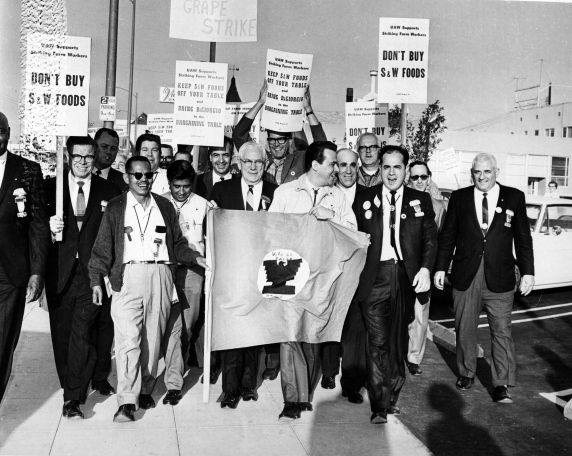 Members of the United Auto Workers (UAW) and the United Farm Workers Organizing Committee (UFWOC) march against S&W Foods during the Grape Boycott, Long Beach California. UAW members were in the area to attend the 1966 UAW conference. Left to right: Roy Reuther, Larry Itliong, Cesar Chavez.
The finished production is narrated by actor Martin Sheen and includes interviews with prominent politicians, labor leaders, and civil rights activists, as well as interviews with Reuther family members. Brothers on the Line also utilizes several minutes of the Reuther Library's video and hundreds of the Reuther Library's photos.
To see a Quicktime movie clip of the Brothers on the Line, click on this link (33 MBs): http://www.brothersontheline.com/hiresmovie.html
For additional informational content on Roy, Victor, and Walter Reuther, use the tags at the top of this post.
For biographical information on Walter P. Reuther, please look at, "No Greater Calling : The Life of Walter P. Reuther" at the following URL http://reuther100.wayne.edu/
Select images from the gallery
Many of the images found in the documentary can be accessed in the UAW Image Gallery.
Mary Wallace is an Audiovisual Archivist for the Walter P. Reuther Library.