Introducing new Wayne State University Archivist Casey Westerman
Posted January 20th, 2011 by mwallace
The Walter P. Reuther Library is pleased to announce the appointment of Casey Westerman as the new University Archivist. He will be in charge of the archival records of Wayne State University here at the Reuther. Casey is originally from Kankakee, Illinois. He attended the University of Illinois at Urbana-Champaign (UIUC) for his Bachelors in History and Philosophy of Science and his Masters in Library Science. He also recently achieved a second Masters degree in English Literature from the University of Georgia. His thesis dealt with Christopher Isherwood's Berlin Stories and their subsequent adaptation for stage and film.
While he was attending UIUC, Casey worked as a graduate assistant in their University Archives. In his last job, he was the sole processing archivist at the Kheel Center for Labor-Management Documentation and Archives at Cornell University. During his several years there, his responsibilities were wide-ranging, from training and supervising staff to preservation and appraisal of records. Casey also performed records management duties, processed large archival collections, developed databases for accessioning, and generated 990 archival finding aids in the Encoded Archival Description (EAD) format—all skills and knowledge that will be put to good use at the Reuther Library!
Casey has only been in the job for a few days, and already he has surveyed the massive collection of University records in the Reuther and is coming up with a plan of attack to make them more accessible for research. "Ultimately, I plan to have a collection-, box-, or folder-level electronic description for each Wayne State record series; by my count, we're already 10% of the way there."
Casey finds the most interesting part of archives for him is on-site appraisals and accessions. "There are elements of rescue and triage when I'm able to select the records that I'll add to the archives." He derives the most satisfaction from arrangement which he maintains gives him the feeling of "reversing or at least stopping the entropy, and restoring and preserving order."
When he's not up to his elbows in historic documents and archival boxes, Casey enjoys postmodern American fiction, twentieth-century European film, and graphic novels. He doesn't follow any sports teams, but likes World Cup Soccer and flat-track roller derby. Since he seems to like skating, perhaps we can turn him into a Red Wings fan!
Casey is a great addition to the Reuther Library's staff. We eagerly anticipate the improvements and innovations he plans on making to the Reuther's University collections and to the Walter P. Reuther Library as a whole. Welcome, Casey!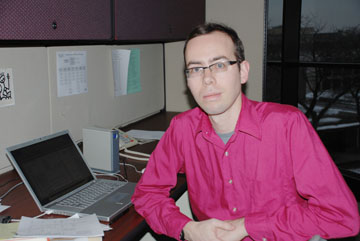 For information or questions about the archives of Wayne State University, please contact Casey Westerman at 313-577-9894.
Mary Wallace is an Audiovisual Archivist for the Walter P. Reuther Library.