Pączki Day
Posted March 4th, 2011 by eclemens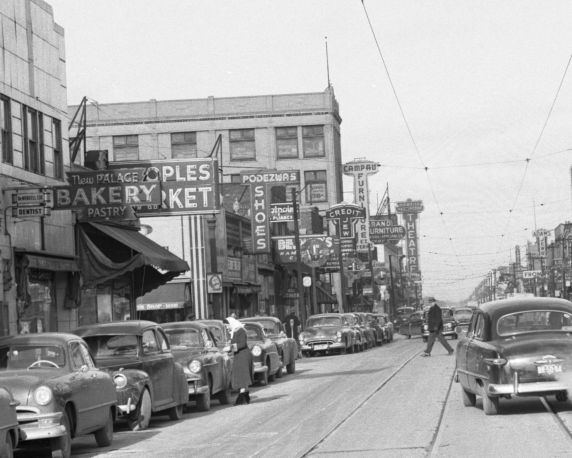 In Metro Detroit everyone is Polish on Pączki Day, celebrated this year on March 5, 2019. A mystery to those who live outside of areas with large Polish populations, pączki (PUNCH-kee) are deep fried pieces of dough, filled with preserves, custards, or other sweet fillings. Since the Middle Ages these treats have been a pre-Lenten tradition because they use up many ingredients in the pantry that are not typically used during the fasting season, such as sugar, lard, and fruit. In Poland, pączki are eaten on Fat Thursday, however most Polish-American communities celebrate on Fat Tuesday, blending in elements of the French-influenced Mardi Gras to counteract the coming austerity of Lent.
Considered by some to be the Polish equivalent to St. Patrick's Day, there is no better place to experience the atmosphere of Pączki Day than Hamtramck, where celebrations start days in advance. Bar crawls, live music, and a general festival-like atmosphere permeate the day, however few will disagree that the most traditional activity is braving the cold and waiting in lines that can wrap around city blocks to get inside of one of Hamtramck's many bakeries, such as the New Palace Bakery (seen at left in the photo above).
Pączki Day is but one of many rich Polish traditions that still exist in Metro Detroit. For a closer look at Polish customs, costumes, and celebrations, please visit our Metro Detroit Ethnic Communities Gallery. If you are interested in specific cities, such as Hamtramck; streets, such as Chene; or general images of the Polish Community, please visit the Virtual Motor City. For information on the area known as Poletown, look no farther than the stunning photographs of the Bruce Harkness Poletown Photographic Collection and the records of the William Kessler and Associates architectural firm. Finally, those interested in the topics of Polish-American identity should consider the personal collection of Don Binkowsi.
Elizabeth Clemens is an Audiovisual Archivist for the Walter P. Reuther Library.