Farewell to Our Friend and Colleague
Posted September 23rd, 2011 by mwallace
The staff of the Reuther Library is mourning the loss of a dear friend and colleague, Tom Featherstone. Tom died unexpectedly on September 15. His passing leaves a tremendous void at the Reuther Library, and in the archival world as a whole.
Tom joined the Reuther Library audiovisual staff in 1979. Having earned a B.A. in History from the University of New Mexico and a M.A. in History from Wayne State University, Tom specialized in Archival Administration, specifically in audiovisual preservation and conservation. He provided advice and assistance to literally thousands of researchers both nationally and internationally during his thirty-two year tenure.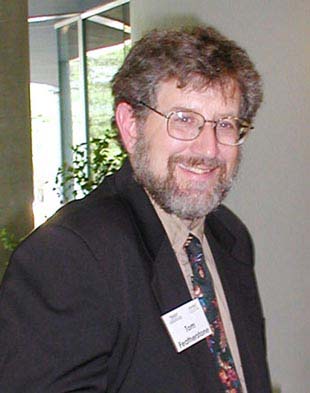 In addition, Tom presented to outside groups on a variety of topics, including film and photo preservation, exhibit curatorship, and labor history. He authored several books, numerous articles, and curated a large number of successful Reuther exhibits. In 2000, Tom received the President's Exceptional Service Award for serving on the Jerome Cavanagh exhibit team.
Tom's friends and colleagues knew him for more than his professional achievements. He was an excellent photographer and avid vintage camera collector. Tom was also a collector of historic format photography; his own personal collection consisted of many kinds of images, from tintypes and stereo views to his biggest passion, daguerreotypes. Tom loved to go to antique stores to search for rare daguerreotypes to add to his collection. When he did find that rare image, he always brought it to work to share with the staff.
Many researchers revered him for his knowledge of the Reuther's collections and for his expertise in history, especially labor history. Professor Beth Bates said of Tom's passing, "He was the fountainhead of what seemed like a millennium of knowledge stored in his head. It is hard to imagine the Reuther without Tom." Writer and scholar Paul Lee wrote, "While Tom's passing is a deep personal loss for all of us, … I'm crying even more for the generations of archivists, scholars and, most of all, students who will never be blessed to know and learn from him. He is simply irreplaceable."
For those of us who worked with him every day, Tom's infinite intelligence, clever sense of humor, and sweet, quiet demeanor is what we will miss the most about him. Even though the spaces that Tom used to occupy seem so empty now, his presence will forever be felt in the Reuther Library. The lasting impression he has left us with is evident in every careful photographic description he wrote, in the numerous complimentary books given to the Reuther by the grateful authors he helped, and in the memories of those of us who knew him. Tom Featherstone truly is irreplaceable.
Mary Wallace is an Audiovisual Archivist for the Walter P. Reuther Library.