Subject Focus: D-Day for Wayne State Football
Posted December 16th, 2011 by cdavis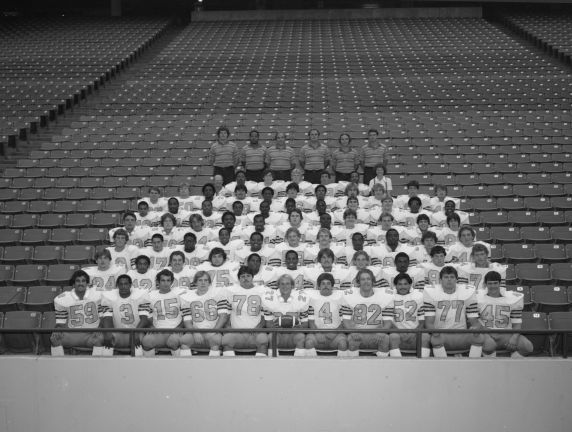 On Saturday, December 17, 2011, the Warriors, Wayne State University's football team, were defeated by Pittsburg State 35 to 21 in their first national NCAA Division 2 final. It was Wayne State's first championship game in the program's 94-year history. This performance is all the more impressive when thinking back to the summer of 1981, when University President Thomas Bonner considered ending the football program and focusing instead on basketball and other sports.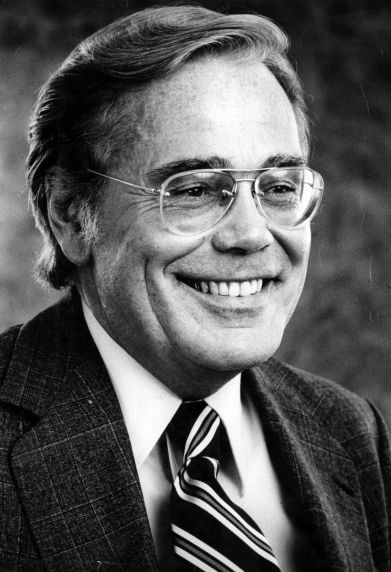 Then, as now, Wayne State was experiencing severe funding and budgetary issues. President Bonner (pictured at left) hoped to save money by dissolving the football program. By focusing instead on high-performing, low-cost sports like fencing, Bonner hoped to decrease Wayne State's debt. Many around the University disagreed. Wayne State University's Board of Governors (BOG) was scheduled to meet on June 10, 1981 to make a final decision on the football team. Their meeting became known around campus as "Football D-Day."
While contemplating the budget, BOG Chairman Michael Einheuser did a cursory review of Wayne's football program, which had began in 1918 when the school, not yet a university, was known as Detroit Junior College. The Wayne State Tartars (the team's name was changed to "the Warriors" in 1999) had had many successful seasons during their history and had played against larger schools such as Michigan State and the University of Louisville. One former Wayne player, Rick Byas, went on to play cornerback for the NFL's Atlanta Falcons.
In 1979, changes in the team's leadership put the football program in peril. Coach Dick Lowry resigned in November 1979 to head up Hillsdale College's football program. Lowry had been at Wayne for six years and left with a 38-21-1 record. Chalmer Hixon retired as Wayne's Athletic Director, and the Board of Governors appointed Wayne's basketball coach Vern Payne to replace him. Payne had a tough assignment in the summer of 1981: he had to promote an endangered football program, which might be dissolved in favor of his basketball program. "I feel like I'm up to my neck in alligators," Payne said, and "all the alligators are wearing football helmets."
Supporters of the football team hoped that recent increased national recognition would sway the Board of Governors in favor of the program. In September 1980, all of the Tartars' NCAA teams had been promoted from Division III to Division II Great Lakes Intercollegiate Athletic Conference (GLIAC). Despite the promotion, the team struggled to establish a fan base, consistently drawing crowds of fewer than 4,000 spectators. Coach Steve Fickert, who replaced Dick Lowry, resigned in protest when told that two of his assistant coaches would likely lose their positions. Ultimately neither assistant coach was fired, and one of the two, Dave Farris, took Lowry's place as head coach.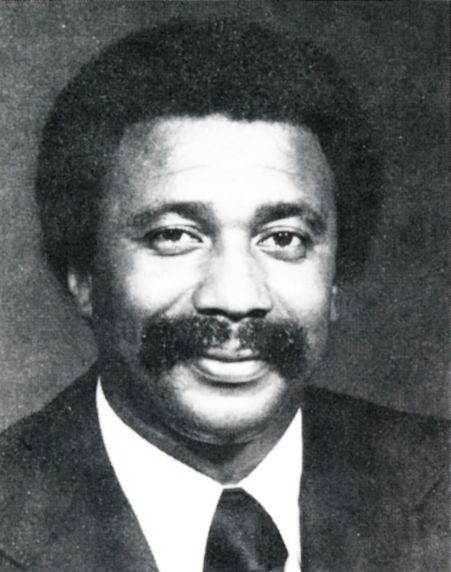 In order to increase audiences for the new Division II team, Coach Farris held student rallies, created bumper stickers, and changed game times to attract student, faculty, and staff attendance. The crowds began to grow. Wayne State's team also enjoyed the support of its opponents and peers. Even the University of Michigan's football coach, Glenn "Bo" Schembechler, weighed in saying, "For GOD's sake, give Wayne State a break!" Payne (pictured at right) argued that it would be wasteful to dissolve football and throw everything into the university's less-successful basketball program; the Tartars basketball team had only had three winning seasons in the last twenty-five years. Finally, even with modestly sized crowds, the football team brought in revenue that other sports, even those with winning teams, did not.
D-Day came, but the Board of Governors delayed the vote so that the Student Affairs Committee (SAC) could have input. Under a resolution passed by the BOG and the SAC on July 9, 1981, it was voted that Wayne State would drop football. The resolution also recommended, however, that the decision to drop football be reviewed if the GLIAC reverted to Division III, a change reportedly being discussed among the conference's member schools. With Division III status, Wayne State would no longer have to provide scholarships, saving the university $134,000. The resolution also called for saving money by eliminating spring practices and reducing the number of assistant coaches and games played.
Farris and his coaching staff made a last-ditch effort by holding two major fall 1981 game openings, one at the Pontiac Silverdome and one at the University of Michigan. Tickets were sold, radio and TV announcements were made, newspaper ads were run, and the football players practiced until they were sure they would win. The Tartars won both special games that September.
In the end, the Wayne State football program was rescued on a technicality. The administration had failed to discuss their plans with the NCAA. NCAA rules specified that, in order for Wayne State's championship fencing program to remain eligible, the school had to compete in six other sports. The Tartars fencing team had taken first or second place in the national championships six times in the last eight years. Faced with the choice between losing its most successful sport or keeping its most expensive one, Wayne State decided to keep its football team. This weekend, thirty years after the team's lowest point, the Warriors head off for the highest peak of Wayne State football history.
The Wayne State University Archives are open to interested scholars. The information in this article was drawn from the University Archives vertical files, which consist of news clippings and university publications. Team rosters, photographs, and schedules for all of Wayne State University's sports teams are available to researchers.
Carrolyn Davis is an Archivist at the Walter P. Reuther Library.