The Coalition of Black Trade Unionists
Posted August 6th, 2012 by cdavis
in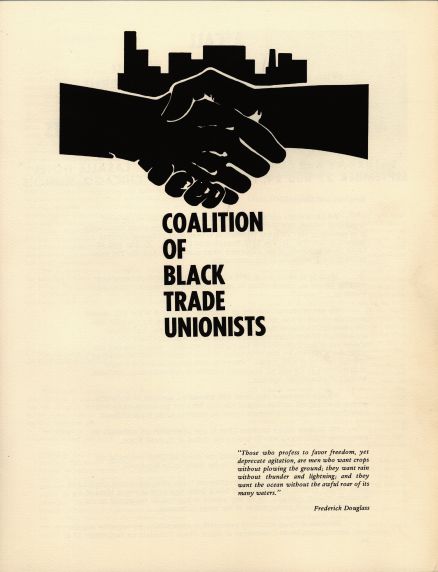 At the Coalition of Black Trade Unionists (CBTU) International Convention, held in St. Louis, Missouri, May 23-28, 2012, the CBTU membership voted in Terrance (Terry) Melvin as its new President. Terry Melvin is the second president in CBTU's 40 year history. William (Bill) Lucy had been CBTU president since the organization's founding in 1972. Lucy also served for 38 years as the Secretary-Treasurer of AFSCME before retiring in 2010.
Lucy told delegates, "I believe it's time for a new leader to step into these shoes and connect with young workers who need their generation out front in more leadership roles. I believe Terry Melvin is ready to step into these shoes. He's paid his dues. Terry has shown that he's the right person to lead CBTU through the challenges we face as an organization."
Terry Melvin began his labor career in New York's Civil Service Employees Association (CSEA), an AFSCME affiliate, in 1980. In 1983, he became president of his local at the age of 21. In 1996, CSEA president Danny Donohue selected Melvin to be his executive assistant. In 2007, Melvin was elected Secretary-Treasurer of the New York State AFL-CIO. For CBTU, Melvin helped found the Buffalo, NY Chapter, and was elected director of CBTU Region 1 which includes New York, New Jersey, Connecticut, Massachusetts, and Ontario. As such, he sat on CBTU's Executive Board. Melvin's work, like CBTU's, has focused on voter registration and turnout and on creating closer ties among labor, religious leaders, and the community.
In September 1972, Coalition of Black Trade Unionists founding members Bill Lucy (AFSCME), Nelson (Jack) Edwards (UAW), Cleveland Robinson (Distributive Workers of America), Charles Hayes (UFCW), and William Simons (AFT) gathered in Chicago with more than 1,200 black union officials and members, representing 37 international and national unions. The call for this conference states, "...We come together to assess very critically several important matters: 1) The 1972 Presidential Election, 2) The role of black trade unionists in the American labor movement, and 3) The role of black trade unionists in the community."
The founders were concerned with President Nixon's poor treatment of African Americans and of the working class poor, and they were especially alarmed by the AFL-CIO's neutral stance on his reelection bid. Further, they felt that the concerns of black workers in particular, and minority workers in general, were not well represented in the labor movement. Hoping to provide a voice for these underrepresented groups, the convention resulted in a permanent organization: the Coalition of Black Trade Unionists (CBTU).
In the last 40 years, CBTU has fought for social justice, civil rights, educational needs, health care, politics, the anti-apartheid movement, and many other causes. Some of CBTU's most important historic work was helping to end Apartheid in South Africa and assisting in the election of President Nelson Mandela. CBTU's President Lucy worked tirelessly through CBTU, AFSCME, and the Free South Africa Movement to raise awareness about Apartheid, institute boycotts of companies that invested in the Apartheid regime, and lead demonstrations against the South African Embassy. After being released from prison in 1990, Mandela traveled to the United States where he met with labor leaders to thank them for the work done on his behalf.
CBTU has also been responsible for helping to increase diversity in the labor movement's governance, ensuring that women and minorities hold leadership roles in the AFL-CIO. Additionally, CBTU has been involved with voter registration and get out the vote drives for African American constituents. Finally, CBTU has focused on improving community partnerships among labor, religion, and other interested groups.
For those interested in researching CBTU, the Coalition of Black Trade Unionists Records, the Horace Sheffield Papers, the AFSCME Office of the Secretary-Treasurer: William Lucy Records, the William Simons Papers, and the AFT Oral History Project: William Simons Oral History will offer valuable information. Further information on the history of CBTU and on Terry Melvin can be found at the CBTU website.
Carrolyn Davis is an Archivist at the Walter P. Reuther Library.